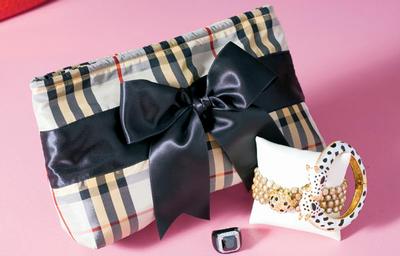 Reader Exclusive
You can buy perfect preppy accessories—chic cocktail rings, embroidered flip-flops, and beribboned bags—at Fornash, a tiny Georgetown Park shop. Mention The Washingtonian to receive 10 percent off all regularly priced merchandise in November. Don't miss the 35-to-75-percent-off bargain bins too.
Fornash, 3222 M St., Georgetown; 202-338-0774; fornash.com.
Diva-Worthy Decor
Think your stylish friend has everything? You can find something he or she doesn't have—a hand-painted bowl, say, or a unique door sign—at Decorium Gift and Home, an interior-design shop and boutique in Old Town. During its annual Thanksgiving blowout, November 21 through 30, save 20 percent on everything.
Decorium Gift and Home, 116 King St., Alexandria; 703-739-4662; decoriumhome.com.
For the Well Traveled
Need a last-minute hostess gift for Thanksgiving dinner? Monday through Saturday of Thanksgiving week, enjoy extended shopping hours as well as 10 percent off everything at Go Mama Go—known for such round-the-world, sometimes kitschy merchandise as Japanese serving platters and world maps.
Go Mama Go, 1809 14th St., NW; 202-299-0850; gomamago.com.
Drink Up
When a plain old Pinot isn't good enough, head to upscale wine-and-goodies shop Cork & Fork, which offers 20 percent off single cases and 10 percent off mixed cases. Mention The Washingtonian this holiday season to get a freebie such as a Michelin wine guide (normally $30), bottle stopper, wine opener, or apron.
Cork & Fork, 7110 Bethesda La., Bethesda, 301-841-7204; 7333 Atlas Walk Way, Gainesville, 703-753-5554, corkandforkva.com.
Giving Tree
Red Tree Baltimore, a boutique with great furniture, paper goods, and gifts such as potpourri and organic tote bags, is celebrating its second anniversary on November 7 with light fare, libations, and live music. Mention this article to receive 15 percent off holiday decor and Kobo soy candles throughout November.
Red Tree Baltimore, 921 W. 36th St., Baltimore; 410-366-3456; redtreebaltimore.com.
More>> Shop Around Blog | Style | Find a Spa