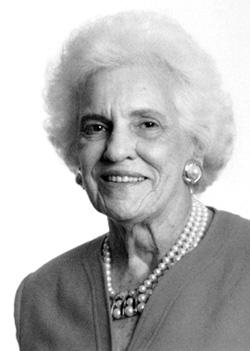 Margaret Sampson Wimsatt was an Army brat. Her father, a colonel, was stationed in Washington in the 1920s, then became the quartermaster at Fort Meade in Maryland. In 1935, he died of a burst appendix at Walter Reed Army Hospital. Maggie's mother had 30 days to vacate her military housing at Fort Meade. "Let's go back to Washington until we decide what we want to do," Mrs. Sampson said.
Maggie Wimsatt has lived here ever since—as a girl caught up in the social whirl, a young wife during World War II, a volunteer involved in the city's biggest charity balls, an event planner, a chronicler of soirees, and, eventually, a doyenne of the Washington social scene.
Before she retired earlier this year as editor of The Washingtonian's Benefits column, it was unthinkable to schedule a major event without calling Maggie first. Here she talks about how Washington society has changed and what she's learned about how to throw a great party.
What are your earliest memories of Washington?
Officers of a certain rank were expected to call on the President and the Secretary of War. My mother had a Buick touring car. She and my grandmother, my sister, and I drove up to the guard at the White House and said, "We are leaving cards." We drove right up to the front door. A man in livery came out with a silver tray. My grandmother put my mother's and father's calling cards on the tray, and then we drove away.
How old were you when your mother brought the family back for good?
I was 17. We rented a house on Connecticut Avenue, and I went to Western High School. Then my grandmother decided she didn't like the way I spoke, and she sent me to the King-Smith Studio School at 17th and S streets, Northwest, for two years. We learned acting, singing, and the social graces. Classes were held in four beautiful adjacent houses, and it was really a finishing school. There were serious students—Martha Graham taught dance there—but I learned how to set a table for a banquet.
I loved to ride. The Wardman Park Riding Ring was behind where the Omni Shoreham Hotel is now. My friend Mary Cootes's father was active military, and he would have horses sent over from Fort Myer so we could go riding there. She married Peter Belin, whose family owned the Georgetown mansion Evermay.
After all that finishing, did you have a debut?
I got married instead. Jim Wimsatt and I ran with the same crowd. Our first date was a dinner dance at Congressional Country Club in honor of Gloria Grosvenor, daughter of Gilbert Grosvenor, who was president of the National Geographic Society. Jim and I were engaged for a year; that was considered a long time.
During the '30s, everything was more formal. Jim had a top hat and a cane. I wore a long cape. We stayed out late. There was a Mass at Immaculate Conception Church called the printers' Mass because it started at 2 am. We used to go to it on our way home Saturday nights.
You were invited to the White House. What was that like?
I was invited to two Christmas balls by Mrs. Roosevelt. The invitations were delivered by hand. The balls were white tie, and we wore ball gowns.
Tell me about your husband.
Jim's grandfather had started a wholesale lumber business, and Jim was in the family business. After we got married in 1939, we built a house on Wriley Road in an up-and-coming Bethesda neighborhood off Massachusetts Avenue just past Westmoreland Circle. But we lived there only five years. Our son, Jimmy, was born in 1941, and there was no school in the area, so we moved to Chevy Chase.
When World War II started, was Jim drafted?
He was very deaf, so he was 4-F. His family had farms in Virginia, and he spent most of the war running the farms.
What was Washington like during the war?
Wild. I had a lot of English cousins who sent their husbands for us to take care of while they were stationed here. Caroline Vogel started a home-hospitality committee. Lydia Langer headed a group of Senate daughters, and I headed a group of young marrieds. One Sunday night a month, we held dances for the servicemen.
One night, we were at Friendship, the home of Evalyn Walsh McLean. A young man was talking to Mrs. McLean, and he asked her about the jewelry she was wearing. She handed him one piece and said, "Here—this is the Hope Diamond." I've never forgotten the look on that kid's face. After that, we passed it around.
How did Washington change after the war?
People started picking up the pieces. A lot of new charities started.
Was that the era of the great hostesses?
Both Perle Mesta and Gwen Cafritz gave big parties. Mrs. Cafritz never sent out invitations. You just got a card that said she would be "at home."
I went to the first big party Cafritz had. Morris Cafritz was a big supporter of the Boys' Clubs; there were no girls' clubs then. He was very generous and was looking for a way to get more support from the community.
Helen Hagner—she started the Green Book, the social directory of Washington—came up with the idea of having "big sisters." It was a kind of ladies' auxiliary for the boys' clubs. Mrs. Cafritz asked me to be a big sister and invited me to a special reception for the group. It was held in the late afternoon and was just an elegant, elegant affair.
What were the popular restaurants in town?
We didn't do much restaurant dining. We had big dinners for 40 at clubs and hotels before dances.
What was the secret of success in the great charity balls of the '50s, '60s, and '70s?
You could get Cabinet members and ambassadors at your table. There was one couple, the Clotnicks, who took two tables at the Symphony Ball, and they always had members of the Supreme Court. Polly Logan would get all of the ambassadors. You could get senators and congressmen by calling their wives.
Then the rules changed. Now it's all corporations filling tables, and they send their junior staff members. Sometimes they show up in business attire.
Did you have a system for organizing events?
Yes—my dining-room table. I also knew who was divorced from whom and who shouldn't sit next to whom.
Did the Kennedys bring back the era of great entertaining?
The Kennedys had a lot of parties, but they had their own crowd. Among the few Republicans were Senator John Sherman Cooper and his wife, Lorraine. She was a beautiful dresser. Years before, when she was married to New York socialite Tommy Shevlin, I saw her at a party in Newport that I will never forget. The Duke and Duchess of Windsor came to Newport for the first time as a couple. There was a dinner for a hundred people, and another hundred people were invited afterward for dancing. I was a houseguest in Newport, and we were invited for the dancing.
The duchess was wearing a sleeveless blue-and-white sheath dress with her sapphires and diamonds. Lorraine was wearing the same dress in green and white with her emeralds. The duchess just stared at Lorraine as flashbulbs popped. The next day at Bailey's Beach in Newport, we were all waiting to see the pictures in the newspaper. But they never appeared. The royals must have gotten all of the film back.
What impact have new administrations had on Washington's social scene?
The Carters didn't help at all. Mrs. Carter wouldn't even come to the annual Women's Heart Board luncheon.
You started out as a volunteer. How did you become a wedding and debut planner?
People knew I could run a great party. I ran seven balls for the Loyola Retreat Center and was one of the founding members of the Women's Heart Board and president of the Ladies Auxiliary for Georgetown Hospital. So they started calling me to arrange debutante teas, balls, and weddings.
A woman named Lynette Hetzel had a business arranging deb parties, and I worked for her. She wanted to sell me the business, but in the '60s the bottom dropped out. Girls didn't want to be debutantes.
When did stores start doing charity events?
In the '60s. At the beginning of the fall season, Woodward & Lothrop would show its new display rooms. I worked with Ed Hoffman, president of Woodies. We would select a charity for the opening-night party. There was red carpet, and it was black tie. We did it all—the invitations, the food. The charity only had to sell tickets. It was very successful for years.
What were the most extravagant events you planned?
In 1974, I organized a trip for a New Yorker named John Shaheen of Shaheen Natural Resources. He was building an oil refinery in Nova Scotia, and he wanted to take a party up to dedicate it. Oil was $34 a barrel then. We chartered the QE2 to bring guests from London. There were 119 guests from 29 countries. A couple of years later, we chartered the QE2 again when he tried to launch a newspaper called the New York Press.
The biggest wedding I ever planned was for Sandra Andreas, the daughter of Dwayne Andreas of Archer Daniels Midland. We had 1,000 guests. The ceremony was at Holy Trinity in Georgetown, and the reception was at the Mayflower. We took a whole floor of the hotel for guests and hired a fleet of limousines.
How did you become keeper of the Washington social calendar?
It was at a cocktail party at Libby Thompson's; her husband was a congressman from Texas. Two women published an annual social calendar, and they wanted me to buy it. I said, "No—it makes no sense. It would be out of date in six months." Warren Adler of Dossier magazine was there. He said, "Why don't you do it monthly, and I'll publish it?"
People still call you for advice on when and how to do charity events. What advice do you give?
The chair has to be a popular person. The people she brings in will set the caliber of the event. She should have a husband who has a lot of Brownie points with his friends. Then check the competition before you set a date.
This article first appeared in the December 2008 issue of The Washingtonian. For more articles from that issue, click here.