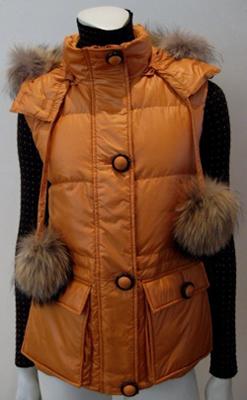 Related:
What to Wear to Holiday Parties

More Gift Guides: Techie | Food Lover | Under $30 | Eco-Friendly
Down vest with raccoon trim by Missoni, $495
Sarah Goodall, owner of the ultra-chic shoe boutique Saucy Shoes in Annapolis, says she's preordered this super-soft vest by Missoni from next-door neighbor Laura Bevilacqua. "I live in vests in the winter," Goodall says. "I think it'll look very chic with a pair of dark skinny jeans and my knee-high Cynthia Vincent brown Lizard Riding boots—from Saucy, of course."
Black Matilde Vachetta flat boot by Loeffler Randall, $695
Lindley Thornburg, super-stylish woman about town and a publicist with Heather Freeman Public Relations, has high style on her wish list. She's craving these too-cool-for-school black flat leather boots, available at ChickDowntown.com, perfect for tucking into skinny jeans or even wearing with skirts and dresses. We're sure she'll look fabulous at her next restaurant opening!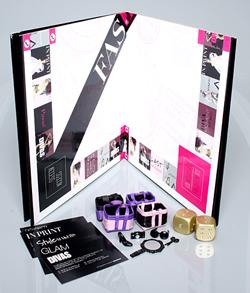 Fashion Rules board game, $100
Styleauteur founder Lauren Rothman knows good style when she sees it. Second only to a visit to the White House in 2009 ("I want to hang with Michelle and the girls," she says), the board game Fashion Rules (available on ShopIntuition.com)—fashion's answer to Monopoly—tops her wish list.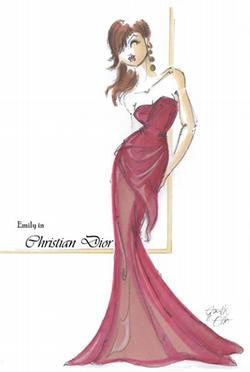 Custom fashion sketch with local artist Garth Otto ($100 an hour)
Liberty Jones, head of public relations for Neiman Marcus in Mazza Gallerie, certainly has easy access to top designer names. But now she wants to bring high fashion home. For Christmas, Jones wants one of local artist Garth Otto's fashion sketches. "He puts your face and imaginary body on the couture gown of your dreams," she says. "I hired him for the store, and now I want one for myself."
Donation to www.KiteGang.org
CityShopGirl.com founder and freelance publicist Kelly Collis Fredrick knows a thing or seven about finding great gifts. But when it comes to her holiday list, she's in a bind. "My birthday is December 24, so I usually double my list," she says. On the charitable side, she's asking for a donation to Kitegang.org, which provides toys and entertainment to children in refugee camps around the world. But when it comes to pure materialism, Frederick knows where she wants to put down her plastic: She wants a membership to BagBorrowOrSteal.com, just like Jennifer Hudson had in the Sex and the City movie.
Chanel Jacket, price upon request
Wendy Raynor, manager of Barney's Co-op in Chevy Chase, has haute couture on the brain. "I wouldn't mind a three-quarter-length black couture Chanel jacket, because what girl doesn't want to own at least one thing from Chanel?" But if she really had a secret Santa, Raynor confesses, she'd love someone to pay off her student loans.
Tickets to see Mandy Patinkin
Johanna Cox, DC resident and current contestant on CW's show Stylista, says, "For Christmas, all I wanted was a chance to see Mandy Patinkin onstage for the first time in ten years. Thankfully, a friend pulled some strings and made it happen, so Santa is more than welcome to skip my stocking this year!" We're glad it happened for you, Johanna. Now can you tell us if you won the contract at Elle?
Elbow-length gloves, $48 on BlueFly.com
ANotSoCapitolIdea.com blogger Chandler Ramelli says that her holiday wish list includes "accessories, accessories, and more accessories!" In particular, she's searching for the perfect pair of elbow-length gloves in cream or ivory. What do you think of this pair we found for you on BlueFly.com?
Massage and hot-lather shave from the Grooming Lounge, $140
Accountant-turned-fashion-designer Ebong Eka knows how to turn heads. In addition to his own men's French-cut shirt from Mi Chiamo Eka, he'd like to indulge in a men's spa day at the Grooming Lounge. The reason? "Dressing well isn't enough. A good hot shave and a soothing massage completes my quest."
Fitted leather jacket (shown: Tory Burch "cluny" in black, $795)
Former Miss DC Kate Michael says that a leather jacket topped her fall wish list, but it never got cold enough to buy one. So she's asking Santa for a fitted cropped jacket, but as for which one, it's going to be a surprise: "I'm always the gal in the cocktail dress, so I'm looking to change up my style a bit and keep everyone guessing!" Do you like this one we've picked out, by always-hot designer Tory Burch?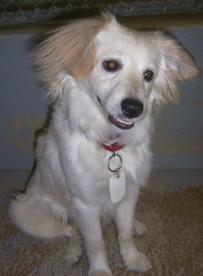 A puppy from the Washington Humane Society
Laura Carlson, head of marketing and events for the Park at Fourteenth and former red-carpet reporter for In Touch Weekly, says that her number-one wish this season is for a puppy—any kind—but it has to be a shelter dog. Maybe she and President-elect Barack Obama can go shopping together. This puppy is named Taz, an eight-month-old American Eskimo/cocker-spaniel mix. You can see more information about him here.
What's on your holiday wish list? Let us know in the comments!

Shopping

→ Gifts for Geeks: Holiday Wish Lists From Local Techies
→ Jingle Bell Shopping: Holiday Markets and Craft Bazaars
Entertaining/Activities

→ Send Us Your Holiday Light Photos
→ Create a Holiday Cocktail Party for $75
→ Timber!—A Guide to Local Christmas Tree Farms
What to Wear

→ What to Wear to Holiday Parties
→ Splurge Vs. Steal: Holiday Party Edition