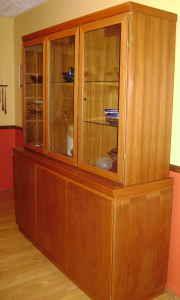 This teak china cabinet from Scan, a now-defunct modern Scandanavian furniture retailer, is $100. The cabinet, which can be separated into two pieces, includes drawers, glass shelves, and interior lighting. The piece has a cool mid-century modern look and would go well in a large kitchen, dining room, or living room.
More good finds:
• White leather love seat for $75.
• Glass coffee table and end table set for $55.
• Ottoman/sofa bed for $350.
• Vintage telephone bench for $60.
• Cream-colored sofa and chaise for $350.
Thanks, Craig!