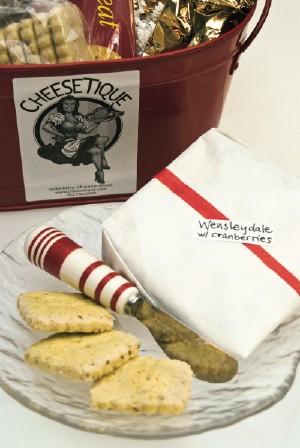 It'd be hard to find a better one-stop shopping source than Cheesetique. But sorting through the shop's myriad domestic and imported cheeses and gourmet accoutrements can be a challenge. Solution: the Holiday Bucket ($40), an artful assembly that includes creamy Wensleydale with cranberries, wheat crackers, shortbread, salami, fig truffles, and a cheese spreader. Owner Jill Erber also customizes baskets in any price range. We recommend the classic English Colston Bassett Stilton or the sharp Grayson from Virginia's Meadow Creek Dairy. Cheesetique, 2411 Mount Vernon Ave., Alexandria; 703-706-5300; cheesetique.com.
Related:
Gifts We Love: Krishon Chocolates
Gifts We Love: Stachowski Brand Charcuterie
What's Your Favorite Foodie Gift?
More>> Best Bites Blog | Food & Dining | Restaurant Finder