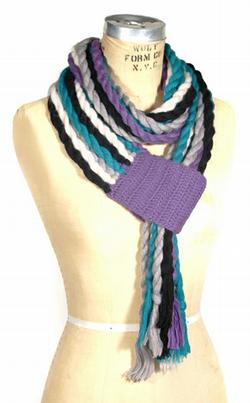 What: Neon screen tees, brightly colored hobo bags, and unique knit accessories, such as hats, scarves, and gloves for the "casual, urban female."
Who: Designer Virginia Arrisueño, a 28-year-old New Jersey native, and her husband Kelly Towels. The couple met at the University of Maryland and settled in DC soon after graduation.
Where to buy it: www.denadadesign.com and various stores in DC, California, and even Japan.
Oh, it's nothing: Arrisueño is a tricky last name, admits Virginia Arrisueño. It's so difficult to pronounce, in fact, that she decided to opt for a different title for her clothing line. But she remained close to her Peruvian roots (her parents hail from the South American country) and decided on the well-known Spanish translation of "you're welcome": de nada.
Quite the résumé: While in school, Arrisueño found a unique love—fiber arts. She won several awards for her work, including the Sadat Art for Peace Award, delivered by Nelson Mandela. Postgraduation, she won first prize in the Viridian Artists National Competition juried by Robert Rosenblum, curator at the Guggenheim Museum in New York City. She also interned at Hirshhorn Museum and Sculpture Garden, Numark Gallery in DC, and Vertigo Gallery in London before starting the clothing line.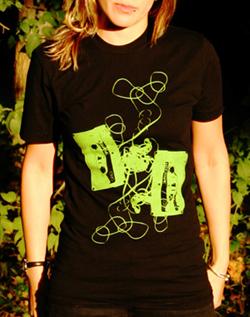 All about Kelly: Raised as an Army brat, Towels spent much of his childhood moving around, but he spent most of his younger years living in Alice Springs, in central Australia. In addition to his role as a designer, Towels works as an artist and freelance graphic designer, catering to bands including Brand New, Senses Fail, Victory Party, Augustana, and Dashboard Confessional.
Arrisueño and Towel's faves:
Place for clothes: H&M, Urban Outfitters.
Restaurant: Cork, Sushi U, Marvin.
Bar: Black Cat, DC9.
Ideal DC day: Start out with Sunday brunch, head to the dog park in Adams Morgan with pup Mia, then finish things up window shopping.
Have a designer you recommend we profile? E-mail candrews@washingtonian.com.
Related:
DC Designers: Kristina Bilonick
More>> Shop Around Blog | Style | Find a Spa