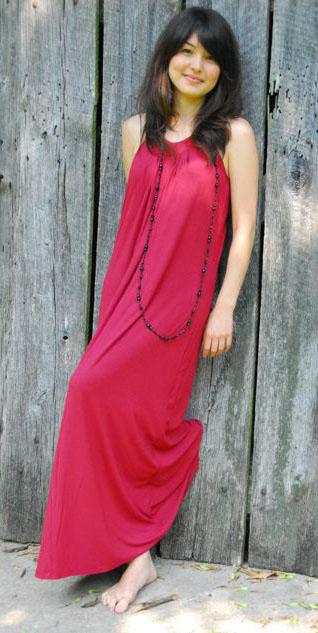 What: TranquiliT, a line of ecofriendly yoga tops, bottoms, and dresses for women that can be worn before and after yoga.
Who: Kimberly Wilson, who previously worked as a paralegal, launched her own yoga studio from her DC apartment in 1999. Three years later, she developed TranquiliT out of a need for clothing she could wear not only while practicing yoga but also throughout the day.
Where to buy it: TranquiliT.com and at Tranquil Space, Wilson's yoga studios in Dupont Circle, Clarendon, and Bethesda.
Exercise in style: Wilson's line has evolved from its early beginnings as athletic-minded clothing to more lifestyle-oriented. Her clothing also became more versatile over time—Wilson says she goes through fashion magazines to think of ways to alter everyday clothes so they fit into the yogawear-on-the-go premise behind her designs. "I'm so blessed because everything I wear is TranquiliT," she says. "I thought, 'If you can't find it, why not create it?' "
Going green: When Wilson discovered bamboo fabric, she never looked back. The clothing line became completely ecofriendly in 2006, and even the packaging for online orders has a green twist: "We have this great ecopackaging," Wilson says. "When people buy online, they can choose to get their products sent in 100 percent recycled shipping materials, and once it arrives you turn it inside out and it's a canvas bag."
Work it out: In addition to managing her yoga studios and her clothing line, Wilson runs the Tranquil Space Foundation, which helps girls and women develop their inner voices through creativity and leadership. She also released a book, Hip Tranquil Chick, two years ago, all while continuing to teach yoga workshops.
How does she do it all? Says Wilson: "It's interesting—it's like my business is so melded into my personal lifestyle that it all comes together. I think when you're an entrepreneur it's really hard to separate personal from professional, and there's not a lot of downtime." So long as she's wearing TranquiliT, comfort and style seem to be two fewer things she has to think about.
Kimberly's faves:
Place to shop for clothes: Target.
Place to shop for shoes: Zappos.com.
Restaurant: "For quick dining, I tend to go to local cafes like Steam, but for eating out, Afterwords Cafe at Kramerbooks. And I love Georgetown Cupcake—they're a really nice treat."
Ideal day in DC: Sleeping in and reading the Sunday paper or having brunch before hitting a bookstore and reading for a few hours. Next, getting some tea and a scone from Teaism, doing some yoga, and sitting in front of a fire for the evening.
More DC Designers:
Monica Favela George
Estella Ogbonna
Pauline Lewis
More>> Shop Around Blog | Style | Find a Spa