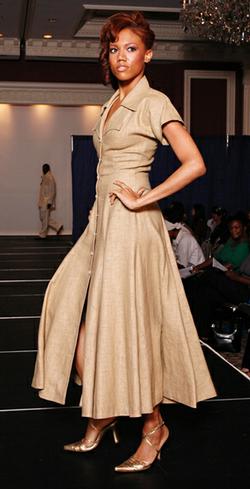 What: Classic pieces and custom clothing for men and women, including bridal wear, evening wear, and business wear, as well as alterations. Also custom home decor, including drapery and upholstery.
Who: Kymberly Davis, a budding designer based in Fort Washington who currently works as an executive assistant for a contracting company. Davis works an early shift so she can focus on her designs after work and on weekends.
Where: Learn more about Davis at her Web site, kdavisdesigns.com, and place an order by calling 202-680-4943.
Early beginnings: When Kymberly was in elementary school, her aunt taught her to sew, and what started as a hobby became a passion. She's still in the process of becoming a full-time designer, which has proven difficult at times: "I've been sewing for over 20 years. It's been a while, and it's much more challenging when you have to work another job."
The art of fashion: Kymberly's ultimate goal for her work isn't mass production. She enjoys not only the design aspect of her business but also constructing garments. Her clientele is mostly executives, so she often designs suits, but she has also made clothes for weddings.
Step by step: Kymberly believes that the local fashion scene is still developing, and she continuously looks for new ways to grow. She has regular customers and has done some charity fashion shows, and she's currently working on new designs for spring. As with any new designer, her main focus right now is polishing the presentation of her designs: "We're regrouping and redesigning the Web site. I'm also bringing on new signature models."
Furthering her career in fashion has been a challenge, but Kymberly knows she wants to turn her designs into a business. "It's more of getting greater satisfaction with working for yourself," she says. "I believe that God gave me this gift and I'm supposed to be working for myself with what I really enjoy doing."
Kymberly's faves:
Place to shop for clothes: "I really love thrift-shopping and restyling."
Place to shop for shoes: Shoes by Lara and TJ Maxx.
Restaurant: Cheesecake Factory.
Favorite place in DC: Georgetown.
Have a designer you recommend we profile? E-mail candrews@washingtonian.com.
More>> Shop Around Blog | Style | Find a Spa