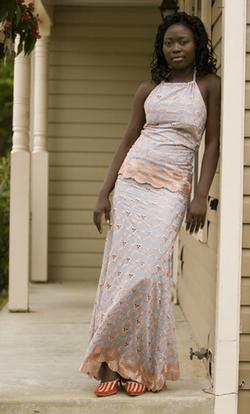 What: L~Shandi Designs, brightly colored women's clothing with unique patterns—everything from dresses to tops to clutches. The name is derived from lepa shandi, Nigerian street slang for a woman in flattering or sexy clothing.
Who: Lara Akinsanya, a 31-year-old biochemist by day and fashion designer by night. She works in HIV clinical research and never really dreamed of becoming a fashion designer, but she decided to create clothes that worked for her: "I just liked fashion. When I started getting older and having the choice on my own personal style, I didn't like black; I like colors. I wanted to make it my own and let it reflect my own personal style."

Where to buy it: On her Web site, lshandi.com, or at Caramel Boutique on U Street. Her designs are also sold in stores along the East Coast, including Patricia Field in New York and Rag Junkie in Florida.
Girl power: Lara began thinking like a businesswoman after joining Ladies Who Launch, an organization for female entrepreneurs. Through its Incubator program, groups of women are guided by a trained LWL facilitator; Lara's was Robin Wilson: "She was the one who turned the key in my mind, turned on the light bulb in my head. She was the leader of our session, and without her I don't think I would be here today. She's amazing."
Nice threads: African lace and aso oke (handwoven cotton) are incorporated into the designs, many of which have unusual patterns and embroidery. Rather than closely monitoring the latest fashion trends, she's inspired by the colors she sees around her every day, and sometimes her biochemistry degree influences her design: "I pay attention to lines; sometimes I even calculate things. I would say I'm a little bit analytical scientifically in the way I use my constructions."
The Washington fashion scene: She was first embraced by boutiques outside the area, but despite being turned down locally, she eventually got her vibrant designs in a store and participated in DC Fashion Week. And as for the overall fashion scene: "I would say DC is still conservative, but there's still people who appreciate my design."
Lara's faves:
Place for clothes: Zara.
Place for shoes: Nine West, DSW, Caramel.
Restaurant: Panda Express ("I'm totally not fancy, and I don't eat out much either!").
Place in DC: U Street corridor.
Have a designer you recommend we profile? E-mail candrews@washingtonian.com.
More>> Shop Around Blog | Style | Find a Spa