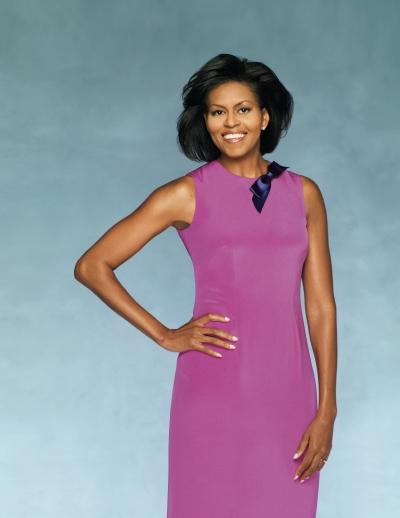 Michelle Obama says she's kept awake at night thinking about everything she has to do in the next couple of weeks. "You spend a year and a half running, and then they give you six weeks to change your life around," she told Barbara Walters. The moving vans are only the start. Her first hundred days in the White House will be a whirlwind of decisions. Here's a look at the to-do list she'll be working her way through.
1. Pack up the Hyde Park house. The incoming first family has to decide what to bring from home. Most incoming families bring their clothes, books, photos, personal mementos, and some household furnishings. "They may want to bring their own china for every day so they feel like they have something from home," says Catherine Fenton, Laura Bush's first social secretary. But they don't have to bring much. It's all there in the White House—more than 40,000 pieces of furniture and accessories, some of them stored in an off-site warehouse, from which Mrs. Obama can choose. Her mother, Marian Robinson, may have more to pack as she heads to Washington with the family unless she decides to take up residence in the White House. And why wouldn't she? With 132 rooms, including 16 guest rooms and 35 bathrooms, there's plenty of space.
Either way, on Inauguration Day, one president will be moved out while another is moved in between about 10:30 and 3:30, says former chief usher Gary Walters. "We can do a lot in that time," he says. When the Obamas arrive at the White House after the swearing-in and parade, their bedspreads, photos, knickknacks will all be there. They're home.
2. Get the girls settled in. Hillary Rodham Clinton recently passed on to Michelle Obama advice that Jackie Kennedy Onassis had given her: Try to give the kids as normal a life as possible. That means more than getting Malia and Sasha a puppy, signing them up for soccer and gymnastics, and letting them hang Jonas Brothers posters in their new rooms. Says Melanne Verveer, one of Mrs. Clinton's chiefs of staff in the White House, it means resisting some of the extravagances that come with the new address. She recalls a movie night at the Clinton White House where Chelsea and her friends spilled popcorn all over the floor. "One could have easily said the housekeeping staff will clean it up," Verveer recalls. "But Hillary said, 'You kids made this mess. You clean it up.'
"They have to know they're normal people and they're expected to be responsible. The staff can be very indulgent, and you don't want to be raising monsters."
Mrs. Obama seems to have the same idea. Her girls, she says, will be expected to make their beds, clean up their rooms, walk the dog, and, as the President-elect so eloquently added, "scoop the poop."
3. Set up shop. The chief usher has a staff of about 100 people to run the household, everyone from florists to calligraphers. But Michelle Obama has to create a staff of about 20 to manage her official duties. She's already hired many of the key people who will make up her inner circle, including a chief of staff and social secretary.
An incoming first lady's staff generally includes a combination of experienced pros who know their way around Washington and people she knows and trusts. Andrea Ball, who'd been Laura Bush's chief of staff in Texas and who came to the White House in the same role, fit into the latter group. She knew Mrs. Bush but not Washington—and certainly not the White House. "Someone told me to go to the Map Room," Ball recalls of her first days there. "I was thinking, the Map Room? Does it have a name on the door?"
Whether they know the White House or not, there's one key requirement for the First Lady's staff, says Sheila Tate, former press secretary to Nancy Reagan. Given the thousands of requests that come into the East Wing, "they need to be people who know how to say no without offending people."
4. Plan the Big Day. Mrs. Obama is one of the chief deciders on a million questions related to the inaugural day, from guest lists to entertainment at the balls to choosing commemorative items to the biggie: what to wear? Add to that a whole set of questions about the children's itinerary and wardrobe for the day. "Will the girls go to the balls until 2 am or stay behind?" asks Walters, the former White House chief usher. He says Mrs. Clinton asked him to plan something "interesting" for Chelsea and her friends in 1993, so he planned a pizza party at the White House that included a "history hunt" in which the kids had to search through the house and, in the process, learn all about it.
5. Measure for drapes—or not. Laura Bush renovated the Lincoln Bedroom, redecorated the personal living quarters, and changed the color scheme of the Oval Office. Hillary Clinton brought in Little Rock decorator Kaki Hockersmith, who gave the place a $400,000 facelift, including a folksier eat-in kitchen. Jackie Kennedy famously gave a televised tour of the White House after an extensive renovation that restored the mansion's 19th-century flavor.
Mrs. Obama, who's already met with the chief usher, will have to pick out everything from a bed—antique or modern?—to linens to an Oval Office rug, then decide what to renovate or redecorate.
As for bringing in a decorator, former East Wing staffers suggest moving slowly. "The house is beautiful," says Cathy Fenton. "You have to live there a bit to say, 'You know, I really don't like those drapes.' "
6. Set out a plan for living. In pre–Inauguration Day conversations with the chief usher, Mrs. Obama will be laying out all of the family's likes and dislikes, routines and priorities, things she may not have even thought about before: Should there be a TV in the childrens' bedrooms? Who will be coming in to style the First Lady's hair and how often? In which room would the family like dinner to be served? What are everyone's food preferences and snacks of choice?
The household staff tries to cater to every request and desire. "We do not have the family adjust to the White House. The White House adjusts to the family," says Walters. "There's no 'Tuesday is turkey night, Thursday is fish night.' That doesn't happen."
As fastidious as the household staff is in intelligence gathering, there are sometimes missteps. Walters recalls that before George H.W. Bush moved in, the kitchen staff stocked up on pork rinds—"We got cases of them"—only to find that reports about 41's fondness for the crunchy snack were more legend than fact. "He said he never ate pork rinds," Walters recalls. His dislike of broccoli, however, was no fiction: "Mrs. Bush made it clear broccoli was not one of his favorites."
7. Pick an issue. The incoming first lady should "pretend it's all over and look back and decide what she wants to be remembered for," says Sheila Tate, a Nancy Reagan press secretary. Tate says that Mrs. Reagan, who became known for her "just say no" campaign against youth drug use, taught her a key lesson: It's important to focus on one thing. "She'll get pulled in every direction imaginable," Tate says, "so she needs to think about one very strong emotional issue that she can shine a spotlight on."
Mrs. Obama has already said she'd like to focus on issues related to work/family balance, the particular concerns of military families, and volunteerism. That's the easy part. She'll have to make decisions about what groups, events, boards, and causes to lend her name to. "She's probably already inundated with hundreds of requests to be honorary chairperson of this and give her name to that," says Verveer, Mrs. Clinton's former chief of staff.
8. Start planning the social calendar. The First Lady helps orchestrate nearly every social or ceremonial event at the White House, from formal dinners to bill signings in the East Room to private dinners with a visiting head of state in the residence. The first three to six months of the year are heavy with official entertaining: There are luncheons or dinners for congressional leaders, for new members of Congress and their spouses, for governors, a white-tie reception for the diplomatic corps, dinner for senior military commanders. Expect instant clamoring for a state dinner.
For each event, the social secretary will work with the chefs, florist, butlers, and chief usher to come up with themes and options that will be presented to the First Lady. The pecan wood-smoked beef tenderloin with wild mushrooms or the Alaska honey-glazed venison? A country singer or classical violinist to entertain? The Johnson china or the Clinton china?
9. Did someone say china? "China is something I know a lot about," says Sheila Tate. And she's not referring to the People's Republic. Her onetime boss took a pounding in the press for spending nearly $200,000 (in donated funds) to buy new china.
There are three full services available for large, formal dinners—the Johnson, Reagan, and Clinton china—and other sets with fewer place settings. The First Lady and her staff select which service to use for each event. She can buy more place settings to fill out an existing pattern or buy a whole new set. Mrs. Obama might want to make do with what's there, at least until the economy picks up. "China is always a controversial issue that has to be dealt with gingerly," says Tate.
10. Start thinking about Christmas. In the White House, it's never too soon. The First Lady will have to review the last 30 or so years of winter holidays at the White House and choose a theme—nature, music, books, pets?—even before the first rosebuds appear in the glorious backyard garden of her new home.