Whether over a couch, along a hallway, or in a dining room, mirrors look good almost anywhere in a home. These two serve double-duty as functional accessories and whimsical wall art.
Splurge
This starburst-shaped mirror from Ethan Allen would add life to any space. Made of cast resin and finished with faux silver leafing, it measures 18 inches in diameter. The lightly antiqued glass gives it a traditional twist. Price: $199.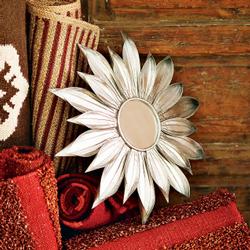 Steal
West Elm's flower mirror has a similarly playful feel—but at $54, it's only a quarter of the price. The metallic petals and mirrored center measure 18.5 inches.