>> See our full Valentine's Day Guide
Where the Wild Things Are dolls ($14.99)
Everyone—girls and especially boys—loves Maurice Sendak's Where the Wild Things Are, so rest assured he'll love one of these character dolls' even if he doesn't admit it. Plus, it'll help him temporarily forget about the much-delayed film adaptation by Spike Jonze, which—let's face it—might not be released for a while.
The Savage Detectives ($10.20, Amazon)
A search spanning continents in pursuit of a missing poet, told in first person accounts by a gamut of characters—man, late Chilean author Roberto Bolaño is cool. Trust us, your boyfriend will feel the same way.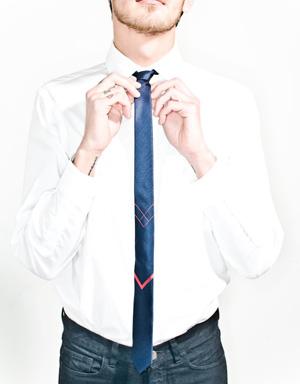 Revel goatee tie ($23) SOLD OUT or silk knit necktie ($49.50)
Ties are hardly a groundbreaking gift, but there are some fun, modern alternatives to the old standby:
1. Skinny ties—such as this navy-blue silk one with a red pattern, which works both in and outside the office, or . . .
2. Knit ties—such as this Lands' End silk knit tie, available in a variety of colors—though we strongly advise against the pink.
Whisky stones ($15)
There's nothing wrong with a man who likes to party—as long as he does so in style and moderation. These whisky stones should take care of making him look stylish. Made of soapstone, they cool your drink without diluting the spirit. Plus, they're reusable. Now, as for the moderation part, you're on your own.
Grey zip-front crew sweatshirt ($84)
If your boyfriend's not into labels or flashy logos, he sounds like a keeper to us. This Lalo crewneck sweater, available in gray, blue, and black, is as simple as you can get without looking boring.
Ivy Leaguer cap ($24)
If you want to accessorize the jacket—or you're running on a super-tight budget—this wool baseball cap from Alternative Apparel should do the trick. It's only $24 and comes in a variety of designs. Our favorites? Black houndstooth and red herringbone.
PF Flyers Number 5 shoes ($84.60)
For casual and stylish shoes, skip Chucks this year—they're about as cool as John McCain or the macarena. Seriously. Instead, we suggest this white pair by PF Flyers, also available in gray.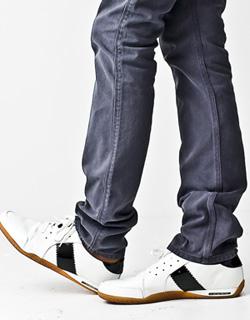 Colletti low-top shoes ($70) SOLD OUT
For an even sharper—and more wallet-friendly—option, there's this pair of white leather Oak shoes. The catch: Only sizes 10½ and 12 are still available. Get them now!
Cube Clock ($24)
We won't lie—we want one of these. Does that makes us geeks? Probably. But surely other guys will find this Rubik's Cube alarm clock just as fascinating, right? (Right!) C'mon, the different functions are activated by rotating the top row of the cube. Talk about cool.
Umbra prop cookbook stand ($24.99)
If you've got a boyfriend who likes to cook, hold tight and don't let go—and get him this neat pop-up (and splatter-protecting) cookbook stand.


Shopping

→ Budget Gift Guide: Under $20

→ Gift Guide for Her

→ Gift Guide for Him


→ Gifts to Warm Your Home

→ Valentine's Day: Beyond Red Roses

Dining
→ Tables for Two: Valentine's Day Menus in Washington


→ Looking for Valentine's Chocolate? How About a Mojito Truffle
Activities
→ Valentine's Day Date Ideas for Art Lovers

→ Beyond Chocolates and Roses: Ten Quirky Things to Do on Valentine's Day

→ Heart-to-Heart Getaways: Valentine's Day Hotel Packages


→ Valentine's Romance at Home