Did you just get waited on by the best server you've ever met? Or pay $25 for a piece of bland foie gras? Did your delivery pizza show up delicious—or was it a greasy mess? We know you've got loads of opinions on local restaurants, and we want to hear them. That's why we've just launched reader restaurant reviews on Washingtonian.com. Now you can rate a restaurant on a scale of one to five and let us know if it's a good spot for, say, a date or a business meeting and then write your own review.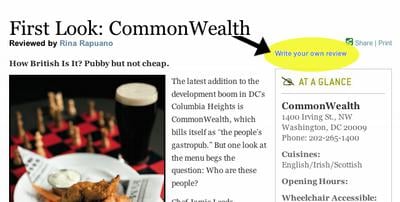 Writing the reviews is easy. To start, just use our Restaurant Finder to locate the restaurant you'd like to comment on, or check out our Reviews section. When you get to the restaurant's main page, either click the "write a review" button above the sidebar box or scroll to the bottom to find the link to write a review. You'll be prompted to create a user login, which only requires you to enter your e-mail address and a password. (This information will not be used in any other manner except to log you in to write reviews.)
Then rate and review away! You can preview your review to make sure you like what you've written, or just go ahead and submit it directly. Right away, your valuable contribution will be added to Washingtonian.com for all readers to see.
If you have any questions or technical difficulties with the reader-review function, please don't hesitate to contact me at candrews@washingtonian.com, or leave a comment in this blog post with your e-mail address. We want this feature to work to the best of its abilities and to help you continue to turn to Washingtonian.com for up-to-date and informative restaurant information.
Happy reviewing!
Catherine Andrews
Editorial Director
Washingtonian.com