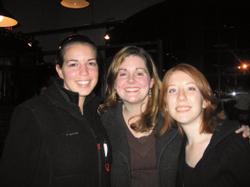 I was at Macy's doing some post-Christmas shopping with my boyfriend when I saw the new voice mail pop up on my phone—and as much as my friends love me, they don't usually sound this excited to talk to me. A return call confirmed it: My friend was engaged!
I'm 25 and from the Midwest, so like most young people fitting that description, I'm looking ahead to a year full of weddings in 2009. That Macy's call makes the sixth engagement I celebrated in 2008. Of those engagements, three have set their wedding dates for the summer of 2009.
Bride number one: I'll call her Ducky (weird story). She lives in Cincinnati and is my best friend from high school, and I'll be the maid of honor in her June wedding. I'll also be a bridesmaid in the May wedding for Bride number two, a former roommate and one of my best friends from college, whom I'll call Angie.
Brides two and three are close college friends, as are their fiancés. We all graduated from Miami University in Oxford, Ohio, in 2005. After graduation, both ladies stayed with their Miami men, and both couples moved to different parts of the country. With the engagements set, they're on the fast track to attaining "Miami merger" status—in other words, a guaranteed Valentine's Day card from my alma mater every year for eternity—or so I hear.
Now the four of them—and the rest of our college friends—will be coming back to where it all began in Ohio for weddings in May and June.
So my calendar looks something like this: Head to Ohio in May, come back to Washington (to, you know, go to my job and other random things), head back to Cincinnati for a wedding in June, and then get ready for another wedding the very next weekend (also, blessedly, in Ohio). It's going to be a busy summer, but I'm looking forward to being there when my closest friends start new adventures in their lives and start building families of their own.
My blog is really about the duties I'll be performing as bridesmaid and maid of honor (they probably involve not making crass jokes in my toast). I've been a bridesmaid in only one other wedding before, and this time around I'm really learning about the work that's involved. I hope that relaying my tales of tribulation will solicit great advice from readers and that, even more, maybe a few of my lessons learned will serve as pointers for readers, too.
If nothing else, I hope that other women can chuckle in commiseration. Because let's face it, where months of hard work and anticipation—not to mention eccentric relatives—are involved, something funny is bound to happen.
More>> Bridal Party Blog | Wedding Guide | Wedding Vendor Search