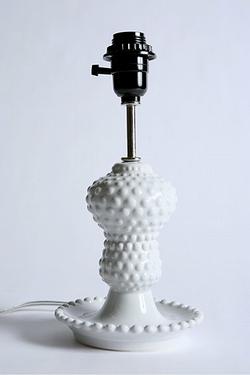 Lately, I find myself drawn to "grandma" accessories. I am keeping count of how many I buy so that my apartment doesn't actually start looking like a nursing home. As long as I keep a healthy percentage of clean, modern items—and stay away from Precious Moments figurines—I think I'll be okay.
Urban Outfitters has this sweet, old timey lamp on sale for $29.99, down from $42. The lamp shades are on sale too, but I would skip those and get a smaller one somewhere else.
More good deals:
The "big box" stores are really feeling the drop in consumer spending, and that means big discounts if you have a little money to spend. Lowes is now installing new hardwood floors for $1.99 per square foot and carpet through a whole house for $139. Both Lowes and Home Depot will also deliver most major appliances for free right now.
And don't forget to drop by Home Rule on 14th Street this weekend. The annual "Lost Love" sale takes place Saturday and Sunday and will include discounts of 50 to 75 percent.