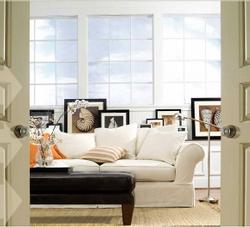 I have a friend who will spend weeks, even months looking for the right purse. She doesn't care about the label but she has to make sure it looks good with a high percentage of her clothes, feels right on her shoulder, and provides a satisfying plumph when she flings it off at the end of the day. Because I am much more impulsive and impatient, I like to keep up with what this friend is buying—and piggyback on her extensive research.
This is how I came to admire Jennifer Convertibles sofas. They are so cheap that I would just be suspicious and move on. My obsessive friend researched the hell out of them, though, and I have to admit that her couch, which looks like the one featured on the Web site, is a perfectly solid, attractive, comfy couch. It isn't winning any awards for dramatic design, but that's not really the couch's job, is it? It also looks strikingly similar to Pottery Barn's slipcovered collection.
Meanwhile, President's Day sales are in full swing, which makes now a good time to check some of the pricey shops you might otherwise avoid. Horchow has 20 percent off of the whole store today with the code "SAVE" at check out. That means this trunk would be down to $560. It can be both a coffee table and place to throw all of your clutter when guests are on their way over.
Ballard Designs also has a storewide sale today, making everything on the Web site 15 percent off. I wish I had a bank of windows where I could put the Afton Daybed. It's $599 before the discount.