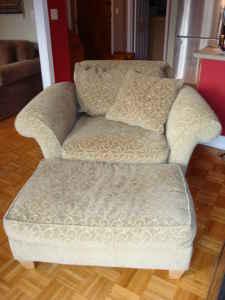 This oversized chair and ottoman make us want to grab a book, put on some slippers, and curl up. The poster says the olive green set was originally $1,900 from Storehouse's 2002 collection; it's now going for $250. The chair measures 57 inches wide, 45 inches deep, and 33 inches high. The ottoman is 36 inches wide, 24 inches deep, and 16 inches high.
More good finds:
• Glass coffee table for $50
• Funky hand-painted dresser for $225
• Tiffany-style lamp for $65
Thanks, Craig!