Macy's is selling a whole mess of couches for $699. Even better, they are cute! I am most drawn to the Chloe, which comes in four colors. My heart says to buy it in celadon, but my head says to go with granite. Which would you get?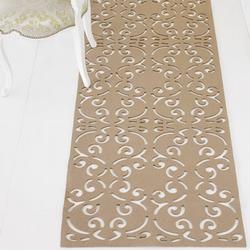 Brocade Home's laser cut rug, one of its signature items, is on sale. It adds a modern element to a room without hitting you over the head with it, and it shows off your floors, too. The 3 x 5 version is down from $399 to $99.
Crate and Barrel keeps adding items to the store's sale list, and it's worth checking out. This table appeals to me because it looks like something that could stay with you through several phases of life. Now $300, it could be a dining table in your efficiency apartment, but there will always be room for it as you upgrade and have more space. It comes in black and white.
I also like this desk, which acknowledges that in the laptop age, we are looking more for a storage hub than a place to sit and work. It's down from $1099 to $999, but I would probably hold out for it to drop some more.