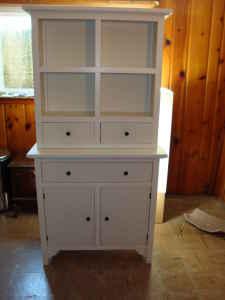 This white Crate & Barrel hutch has an all-American look. Perfect for a kitchen, its shelves are a great spot to display your favorite china, and the double doors conceal ample storage space. The piece measures 75 inches high, 38 inches wide, and 11 inches deep. Asking price: $80.
More good finds:
• Antique Victorian loveseat for $219
• Oak dining table and chairs for $150
• Art deco table for $45
• Coffee table for $100
Thanks Craig!