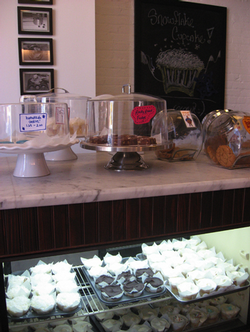 • In the March issue of the Atlantic Monthly, food writer Corby Kummer dissects the cupcake craze and the petite cakes themselves. He's not enamored with most that he's tasted, including those at Magnolia Bakery in New York City, which can arguably be credited with starting the cupcake madness. On his tour of Washington's cupcake scene, Kummer found that Baked and Wired makes the only "just-right cupcake" he's tried. He praised the Georgetown cafe's birthday cupcake for its crackly white icing and "moist, airy" chocolate cake. To hear more of his thoughts on cupcakes, watch this video.
• At last week's South Beach Food & Wine Festival, Spike Mendelsohn took home a trio of trophies at Rachael Ray's Burger Bash. The former Top Chef contestant and owner of Capitol Hill's Good Stuff Eatery won the People's Choice, Golden Grill, and Best Dressed Burger awards. He entered his Colletti Smokehouse, a patty stacked with barbecue sauce, cheddar, onion rings, and bacon, with a side of his toasted-marshmallow milkshake. Mendelsohn beat out 22 other chefs including Bobby Flay, Masaharu Morimoto, and Rick Bayless. He didn't take home the prize in the potato category, but then again, he didn't enter it.

• On Monday, the Washington Post's bankruptcies section listed a recent filing for a business at 1106 King Street in Old Town Alexandria. That address belongs to longtime French restaurant Le Gaulois. A sign outside the place, however, says that it's closed for renovations until April 1.
• Former Brasserie Beck beer sommelier Bill Catron has found a new home at De Vinos, a wine store in Adams Morgan. The store, which already has 100 Belgian beers, will have three times that by next week. Catron told Washington City Paper's Tim Carman, however, that he really wants to go back to working in a restaurant.
• If you're like us, you're still mourning Carla Hall's loss on Wednesday's Top Chef finale. We wanted to think it was because she didn't cook her food and was influenced by Casey Thompson, her sous chef and a contestant on the show's third season. But then we read this nasty comment from Casey on D Magazine's Side Dish blog, and now we don't know what to think. Whatever happened, we still love you, Carla!
More>> Best Bites Blog | Food & Dining | Restaurant Finder