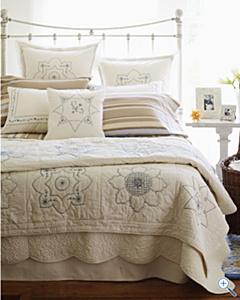 I am a big believer in investing in a good bed. You spend a ton of time there, and if you aren't comfortable and happy in bed, the rest of your life will certainly suffer. The good news is creating the perfect sleep station need not break the bank. Not in this economy, anyway.
Garnet Hill has its adorable Alpine quilt and sham on sale. Now you can get the king-size quilt for $115 and the sham for $14.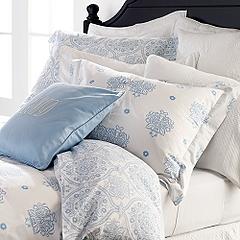 Ballard Designs has a slightly more bohemian version of the same color scheme in a duvet cover, discounted from $139.95 to $79.99.
Macy's has coverlets that I like for a bachelor's bedroom. Michael Kors' Jet Set bedspreads have a clean, polished look that will make your bedroom look comfortable without being fussy. They're down from $230 to $179.99.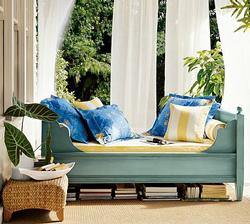 Oh, and don't forget the value of a good nap, either. In my dream home, where I have enough room for a daybed just for napping, I would have Pottery Barn's lovely Priscilla Daybed pushed into a bay of windows. It's down to a fairly affordable $499.99, from $699.00.