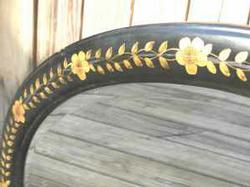 This mirror by Arhaus Furniture could add a touch of artistry to any room. The piece is black with gold floral stenciling, and can be hung either vertically or horizontally. The mirror is about one inch deep, measures 24 x 35 inches, and costs $150.
More good finds:
• Antique oak table for $125
• Dining table from Pier One for $225
• Antique table lamp for $75
• Six upholstered dining chairs for $500
• Nightstand for $50
Thanks, Craig!