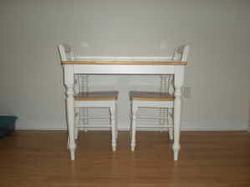 This two-tone table and pair of matching chairs is perfect for a starter apartment with a kitchenette. The crisp white base and center nicely offset the natural wood, making it easy to match with virtually any decor. You can't beat the price, either. It's going for $50.
More good finds:
• Entertainment armoire for $149
• Leather recliner for $800
• Contemporary-style kitchen set for $150
• Antique red glass lamp base for $20
Thanks, Craig!