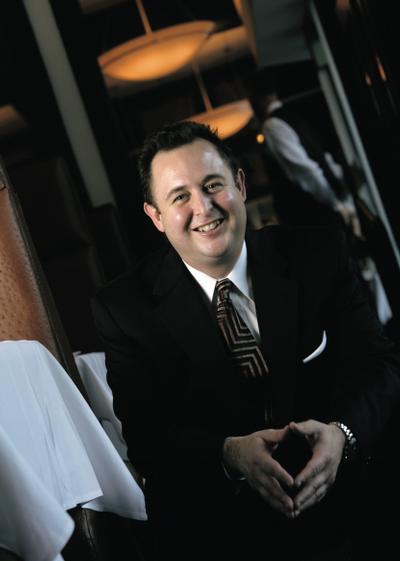 Michael Landrum's flagship restaurant, Ray's the Steaks, just relocated from the cozy Arlington storefront where diners waited patiently every evening—glasses of free wine in hand—for their fix of Châteaubriand or hanger steak. The new, bigger digs up the street will take some reservations, and you can expect a crush now that the self-taught chef has a $19-and-under menu of recession-friendly steak dinners.
Foodies may associate Landrum's name with all things beef—he also owns the steak-focused Ray's the Classics in Silver Spring and Ray's Hell-Burger in Arlington—but back when he was scouting locations for his first restaurant, the original plan was to open a straightforward seafood grill. Thus, the Boston-born Landrum is hanging onto the old Ray's the Steaks space and will soon transform it into Ray's the Catch, a seafood spot with both New England and Chesapeake influences.
Amid all the changes, Landrum sat down to chat about some of his food favorites.
Favorite cut of steak:
"It would have to be the hanger steak. I love the intensity of flavor, the depth of flavor, the richness of texture, and the juiciness."

Steakhouse side:
"I love the potatoes au gratin at the Capital Grille in DC, where I worked the front of the house before opening my own place. Guilty indulgence."

Type of fish:
"Classic broiled cod at any of the great New England fishhouses. We'll have something similar at Ray's the Catch with either cod or halibut."

Background music for cooking:
"A Tribe Called Quest and Biggie."

Burger toppings at Hell-Burger:
"I go topless. Well, besides cheddar cheese."

Local restaurant:
"My go-to is Corduroy. My first choice of where I'd go would be Komi, but I'd have to have the whole evening to devote to it or the time to get an advance reservation there. Corduroy, whether it's dinner at the bar or going out on a date in the dining room—that's where I go three out of five times I dine out. I have a lot of respect for Tom Power, but I'm not a part of any chef clique or anything."

Local restaurant that's no longer around:
"Ruppert's—that was my first real love. When I first sort of came out as a restaurant lover, that and Obelisk were the two restaurants that really grabbed me and got me excited. I really miss Ruppert's.

Cold-weather cure: matzo-ball soup or pho?:
"I'd go pho. I go about once a week to Pho 75 next door [to Hell-Burger and the old Ray's the Steaks]. I go to Minh's, too.

Wine or beer?
"Wine. I've always been—even as a teen—sort of an alkie and a lush. I went to Andover for high school, so I had a lot of connections and friends in Europe who were the types with cellars in their own homes. So the times when I wasn't sleeping under a bridge or in the train station, I was a guest at someone's house who I knew from boarding school, and I was very lucky to be exposed to the great wines of the world."

Dessert or cheese?
"I'm going to say dessert. My favorite ever was the rhubarb mess from Ruppert's. It was like a cobbler without the crunchy stuff. My favorite dessert now is Tom Power's pistachio bread pudding."

Meal from childhood:
"Salisbury steak at Durgin Park, at Faneuil Hall in Boston. That was my big treat as a kid."

Cheap eat:
"I always eat cheap! I'd say hummus and kibbeh at Layalina."

Chef on TV:
"I don't own a TV, actually. My favorite TV chef is Chef Boyardee."
Read More Chef and Restaurateur Interviews
More>> Best Bites Blog | Food & Dining | Restaurant Finder