I'm not sure how to feel about wall decals. They were really popular a few years ago, but they haven't dropped off the planet like many other trends. I would definitely use them in a baby's room or teen's room, but I'm still on the fence about the rest of the house.
These simple flowers would look cute in a nursery, and they are currently 25 percent off, at $43. But, what about fancy adult stickers, like Ferm Living's birdcages or berry designs? If you are more decisive than I, you can now get free shipping on both of those options.
Those who share my love of wine should snap up this eight-bottle wine cellar, down from $299.99 to $159. It's the grown-up kegerator, and everyone should have one.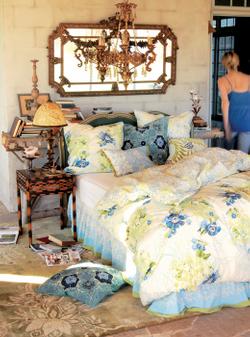 I love this bed skirt more than I thought it was possible to love a bed skirt. Pretty, but not fussy. Noticeable, but still muted. And, maybe best of all, it's on crazy sale! Down from $180 (which was obviously way too much) to $29.