This year's DC Design House takes over a three-story Victorian on a tree-lined street in Georgetown. The house usually serves as a rectory for St. John's Episcopal Church, but it took only nine weeks for 16 local designers to transform it into an oasis of big bouquets, bright colors, and bold prints. We visited the Design House when it opened last weekend; here are some highlights: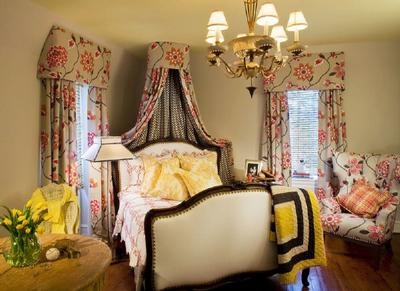 A warm, golden-papered vestibule designed by Michael Roberson welcomes visitors to the mansion, which was originally built around 1875. The 12-foot-high, light-gray ceiling is bordered by crisp white moldings, and the walls are fashioned with an elegant mirror, which makes the small space feel open.
The entry hall was designed by Joseph Ireland and Julie Weber. A large-scale print wallpaper by Farrow & Ball seems to climb the wall and bring life to the room. Ireland enhanced the room's white trim and high ceilings with a burgundy cord trim, and modernized the furnace with bamboo stalks.
The living room, designed by David Mitchell, also marries old with the new, casual with formal, playful with chic. The room mixes muted earth-and-sky tones to create a space perfect for entertaining company or the kids.
Across the hall is the library. Sarah Wessel designed the interior as an escape: The space is far from the traditional green-and-leather library of old with robin's egg blue walls, sheer draperies, and lots of light for reading.
Camille Saum designed the dining room, blending purple, gold, and silver hues to create a whimsical, elegant feel. The room was created around Missoni china from Gore Dean and a striking, hand-stenciled ceiling by Ali Nassiri of Atelier Artists.
Upstairs, the master bedroom—with its live plants, taupe walls, gold-papered ceiling, and big, floral prints—feels like a secret garden. Designer E. Wayne Breedan found inspiration from country farmhouses and brought that inspiration to life with art, Old World antiques, and contrasting fabric textures.
Off the master bedroom is a sitting room and master bathroom by Iantha Carley. The two rooms are practical and chic. Carley used botanicals and the beach as her inspiration and, though both rooms are small, creates spaces that are inviting.
Marjory Segal, designed the little girl's bedroom (pictured above), which was full of bright and bold colors and elegant details.
Another inviting spot is the guest sitting room, decorated by Sally Steponkus and Heather Safferstone. This room has golden tones and is anchored around two chairs with fabric dominated by geometric and quatrefoil designs. It's definitely a hit.
But the Design House saves the best for last. Be sure to wind your way downstairs to Draza Stamenich's laundry room, which is past the kitchen, designed by Susan Thompson. Hand-painted wallpaper, topiaries, avery wire, and a lantern make this room a true sanctuary.
Proceeds from the DC Design House benefit Children's National Medical Center. The house is at 3238 O Street, NW and is open through May 10.
Photographs by Lydia Cutler.