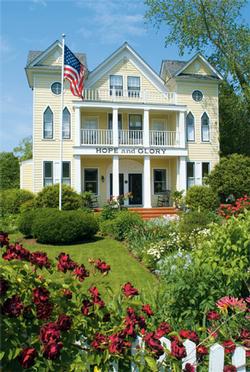 Romantic Getaway
Hope and Glory is one of the region's most whimsical and romantic inns.
The historic 1890 building, once a schoolhouse, has seven guest rooms and six garden cottages. Seven vineyard "tents"—two-story cottages each with three bedrooms and three baths, living and dining areas, a kitchen and screened porch—are set within White Fences Vineyard.
Where the inn shines is in its English garden. There are butterfly bushes and walls of wisteria; a moon garden features plants that bloom at night. A clawfoot tub and shower in the garden offer an unusual but private bathing experience.
Guests can while away the day on a bike ride—bicycles are free—or by the pool. On Friday nights, you can enjoy crabs, shrimp, beer, and wine on an evening cruise offered by the inn for $85 a person. Most Saturday nights, innkeepers Peggy and Dudley Patteson host a chef's table; on other nights, guests can choose from a tapas menu as well as other good restaurants nearby.
Rooms are $195 to $395 a night with breakfast. Mention The Washingtonian to get a 15-percent discount. This offer is good through August except on holiday weekends.
Hope and Glory Inn, Irvington, Va; 804-438-6053; hopeandglory.com.
Wine and Williamsburg
Wedmore Place was built in 2007, but you wouldn't know it: In the inn's lobby, a reproduction 18th-century painting of Venice hangs over a number of antiques, including a reception desk of carved mahogany.
Each of the 28 rooms and suites is decorated in the style of a different European province and a different period in history. Every room has a fireplace, luxurious linens, antiques, and original art. Outside are an Italian-style tiled courtyard, a stream, beautiful gardens, biking and walking trails, and a pool. The inn is a five-minute drive from Colonial Williamsburg and next door to the Williamsburg Winery.
Mention The Washingtonian to take advantage of a special offer through August: The exclusive package includes a room for a Friday and Saturday night, a bottle of Champagne, a tour and winetasting for two at Williamsburg Winery, and a three-course dinner for two at Café Provencal, with a bottle of Williamsburg Winery wine, for $493—a savings of about 25 percent. Taxes and gratuity are extra. Breakfast in Café Provencal, adorned with antique farm tools, is included with every room.
Wedmore Place, Williamsburg, Va.; 757-941-0310; wedmoreplace.com.
Out on the Water
What makes the Tides Inn special is the setting—on its own peninsula overlooking Carters Creek, with the Chesapeake Bay to the east, the Potomac River to the north, and the Rappahannock River to the south. You can take advantage of its proximity to the water by borrowing a kayak, canoe, or paddleboat or renting a small motorized boat. A sailing school offers a variety of courses.
For golfers, the highly rated Golden Eagle course is challenging, while a free par-3 course is ideal for honing short-game skills. Guests can relax by the pool overlooking the water or at the spa. In the dining rooms, Chesapeake Bay and Northern Neck cuisine comes with a water view.
From May through August, mention The Washingtonian to get a special deal on the inn's weekend Bed & Breakfast Package: Waterfront accommodations, a full American breakfast for two including tip, and half-price motorized-boat rentals cost $236 a night a room. The deal is one-third off the normal rate of $362 a night.
Tides Inn, Irvington, Va.; 804-438-5000; tidesinn.com.
New York State of Mind
The best way to see New York City is on foot, and the AKA Central Park hotel puts you within walking distance of the park, the theater district, museums, restaurants, and Fifth Avenue with its shopping at FAO Schwarz, Bergdorf Goodman, and Tiffany.
At the AKA, guests get a studio suite with a kitchen. An exclusive package for Washingtonian readers includes a suite, a light continental breakfast, wireless Internet, use of the fitness center, a welcome fruit basket, and mineral water for $199 a night—a savings of about $100 a night. If you prefer another location, the same deal applies at the Times Square AKA hotel. This offer is good May through August.
AKA Central Park, 42 W. 58th St.; 646-744-3100; hotelaka.com.
Roughing It in Style
Smoke Hole, West Virginia, is a terrific destination for anyone who loves the outdoors. The area is packed with activities such as rock climbing and rafting as well as tamer adventures such as hiking, fishing, and scenic train rides.
North Fork Mountain Inn is described by its innkeepers, Ed and Carol Fischer, as an "outpost of luxury in the wilderness." The rooms and suites as well as a cabin have quilts and mountain views. Some have fireplaces, others whirlpool tubs; some have both.
On the deck are a hot tub and a telescope for stargazing. Ed, a master sommelier, prepares a hot breakfast daily, while Carol bakes cookies and breads. For $25 for two people, they'll prepare a picnic lunch. Dinner on Saturday includes winetasting, appetizer, soup/salad, entrée, and dessert for $40 a person.
Rooms are $130 to $245 a night for two, including breakfast. May through August, mention The Washingtonian to receive a 15-percent discount on a room plus a free bottle of wine (minimum two-night stay).
North Fork Mountain Inn, Smoke Hole, W. Va.; 304-257-1108; northforkmtninn.com.
Historic Charlottesville
Silver Thatch Inn is a great base for exploring Charlottesville, an area offering everything from wineries to tours of three presidential homes: Monticello, Montpelier, and Ashlawn.
The inn itself is historic—parts of it date back to 1780. Each of the seven guest rooms is named for a US President born in Virginia.
Many of the rooms are done up with antiques; several have a canopy bed and a fireplace. Guests can have a hot breakfast in the sunroom and a drink in the English Pub. There are four dining rooms—one dates back to 1780—where innkeepers Terri and Jim Petrovits, who are trained chefs, always try to use local produce. A swimming pool provides a spot to cool off.
Rooms range from $175 to $210, including breakfast and a free glass of wine or beer. Washingtonian readers can receive 20 percent off regular rates for stays in June, July, and August.
Silver Thatch Inn, Charlottesville, Va.; 800-261-0720; silverthatch.com.
Cooking Up a Deal
The Inns at Montpelier, a group of eight B&Bs near Orange, Virginia, are offering Washingtonian readers a Stimulus Package: Book two nights at the standard room rate and get a third at half price.
They're also throwing in some extras: free winetastings for two at Barboursville Vineyard and Sweely Estate Winery, a buy-one-get-one-free five-course dinner at the Inn at Meander Plantation (normally $65 a person), and two tickets to James Madison's Montpelier. Taxes are included.
The inns include the antebellum Mayhurst, where rates are $155 a night and up, and foodie favorite Inn at Meander Plantation, where rooms start at $175 a night and monthly two-day cooking classes are a popular activity.
To book, visit innsatmontpelier.com, select an inn, and give it a call—just be sure to mention The Washingtonian to get the deal. This offer is good through May.
Shore Thing
Once a sleepy Virginia shore town, Onancock is now a charming Chesapeake Bay destination for travelers who like nice inns and restaurants as well as artist studios and funky shops.
Among the places to stay is the Inn at Onancock, which is offering a two-night package for Washingtonian readers that includes accommodations, a couple's massage, a bottle of wine, and two spa robes for $550—a discount of more than 20 percent.
The inn features spa-style bathrooms, 1,000-thread-count sheets, full gourmet breakfasts, and a Wine Down Hour each evening with hors d'oeuvres. Guests can spend the day touring local vineyards, kayaking, relaxing at the beach, or curled up with a book on the wraparound porch.
Inn at Onancock, Onancock, Va.; 866-792-7466; innatonancock.com. Be sure to mention The Washingtonian to get the discount, which is good May 4 through June 30.
This article first appeared in the May 2009 issue of The Washingtonian. For more articles from that issue, click here.