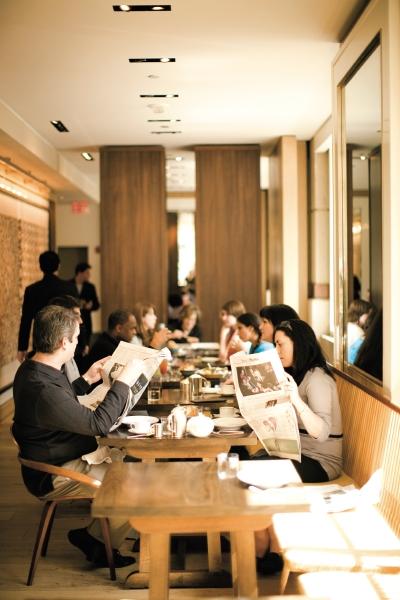 Related:
Best alternative to hash browns: The crackly-edged latkes ($7) at Black Market Bistro (4600 Waverly Ave., Garrett Park; 301-933-3000) make us forget about any other breakfast potato. Dip one bite in thick sour cream, the next in the house-made applesauce.
Meal on wheels: On weekends, you'll usually find a line out the door of our favorite dim sum house, the wonderfully chaotic Hollywood East Cafe on the Boulevard (2621 University Blvd. W., Wheaton; 240-290-9988). The carts hold treasures galore: filmy noodles wrapped around fried crullers, steamed barbecue-pork-filled buns, and spicy shrimp wontons.
Not just any eggs: You can find omelets and scrambles on most brunch menus, but an Egg 63? The deliciously runny egg—cooked at 63 degrees Celsius and draped over a sauté of mushrooms—was created for the menu at Minibar but is now offered at "Latino dim sum" at Café Atlántico (405 Eighth St., NW; 202-393-0812). At Jackie's (8081 Georgia Ave., Silver Spring; 301-565-9700), we like the kitchen's twist on the British "eggs in a nest." Instead of serving the poached egg with toast, it's nestled in wilted greens atop a crisp round of hash browns.
Cafe society: Whether you take your morning brioche on the leafy sidewalk cafe or inside the bar, Café du Parc (1401 Pennsylvania Ave., NW; 202-942-7000) feels like just the place to crack open some Ezra Pound.
If you're not in the mood for pancakes: Want more lunch than brunch? It's tough to say no to the bison burger at Cashion's Eat Place (1819 Columbia Rd., NW; 202-797-1819), stacked with tomato and a perfectly poached egg and served with a side of potatoes and béarnaise.
And if you are . . . : Art Smith's dinner-plate-size pancakes at Art and Soul (415 New Jersey Ave., NW; 202-393-7777) have a ladies-who-lunch aura—they're ultrathin, lemon-scented, and topped with honey and a spoonful of mascarpone butter—but are satisfying and not too sweet.
Brunch with a twist: The late-morning meal at Poste (555 Eighth St., NW; 202-783-6060) is full of surprises: breezy, herb-infused cocktails, a buttery Reuben with duck pastrami, softly scrambled eggs with salmon and crème fraîche. Our favorite might be the Eggs Hussarde, a mess of poached eggs, bacon, and potato skins gussied up with marchand de vin sauce.
Most unexpected find: Indian restaurants are better known for lunch buffets than for brunch. The elegant Angeethi (645 Elden St., Herndon; 703-796-1527) does both well. Each Saturday and Sunday, East-West dishes such as masala omelets share space with puffs of fry bread, freshly griddled cornbread, and Burmese hakka noodles.
Brunch that won't break the bank: Domku (821 Upshur St., NW; 202-722-7475) might look like a whimsically cool coffeehouse, but its Scandinavian-minded kitchen puts out more than the usual snacks. We like Swedish hash with salmon and a poached egg, Danish abelskiver—a cross between a doughnut hole and a pancake—and a cardamom waffle with lingonberry preserves.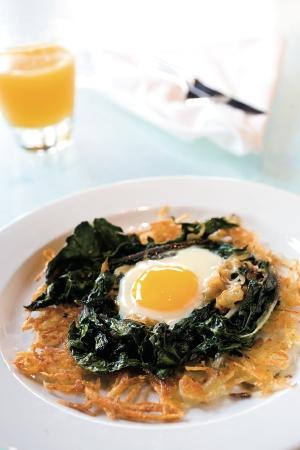 Worth the splurge: Brunch is a toss-off at some high-end restaurants. Not at Volt (228 N. Market St., Frederick; 301-696-8658): It's hard to choose among stellar renditions of steak and eggs and rum-soaked French toast. Even tougher is saving your appetite past one of the best bread baskets around, filled with just-baked biscuits, cinnamon rolls, and pain au chocolat.
Eye-openers: There are five varieties of Bloody Marys to choose from at Blue Duck Tavern (1201 24th St., NW; 202-419-6755), from an Old Bay–rimmed traditional blend to a martini poured over tomato ice cubes. At Vermilion (1120 King St., Alexandria; 703-684-9669), we like daytime cocktails such as the vodka-spiked King Street Lemonade and a gin fizz made with pear reduction.
Alternative to Egg McMuffin: It's as simple as it gets, but there's something deeply satisfying about the bacon-egg-and-American-cheese sandwich on buttery white toast at Evening Star Cafe (2000 Mount Vernon Ave., Alexandria; 703-549-5051).
Fanciest coffee service: A French press of dark Austrian coffee, served at Leopold's Kafe & Konditorei (3318 M St., NW; 202-965-6005) on a little silver tray, is the perfect foil for a ham-and-cheese scone or scrambled-egg soufflé.
Destination doughnuts: Tabard Inn (1739 N St., NW; 202-331-8528) is famous for its brunch—and its house-made doughnuts. The warm rounds, dusted with cinnamon and sugar, are beautifully light.
Prime-time pastries: Heather Chittum's desserts are our favorite part of dinner at Hook (3241 M St., NW; 202-625-4488 ). On weekends, she turns out fresh croissants and currant-studded scones. If you're on the go, pick up a few freshly baked pains au chocolat at the charmingly rickety Cafe Parisien Express (4520 Lee Hwy., Arlington; 703-525-3332).
Southern comfort: For brunch at Redwood (7121 Bethesda La., Bethesda; 301-656-5155), one cook's day is devoted to making buttermilk biscuits. Flaky and soft, they're served with jalapeño jelly, but we prefer them with honey butter and house-made mixed-berry jam.
Who needs New York? A pizza place is about the last spot we'd think to turn to for a great bagel, but you'll find one—plus onion-topped bialys—at 2 Amys (3715 Macomb St., NW; 202-885-5700). To go with it: house-made cream cheese and lox.
Room with a view: The food at Buddy's Crabs and Ribs (100 Main St., Annapolis; 410-626-1100)—omelets, waffles, cereal, muffins—is nothing special, but you can't beat the location, with its vista of boats in the harbor.
Dessert for breakfast: There's a new version of the Belgian waffle at Brasserie Beck (1101 K St., NW; 202-408-1717). Big and fluffy, with crisp edges, it's sometimes topped with rich, dark-chocolate mousse.