Josh Burdette, 9:30 Club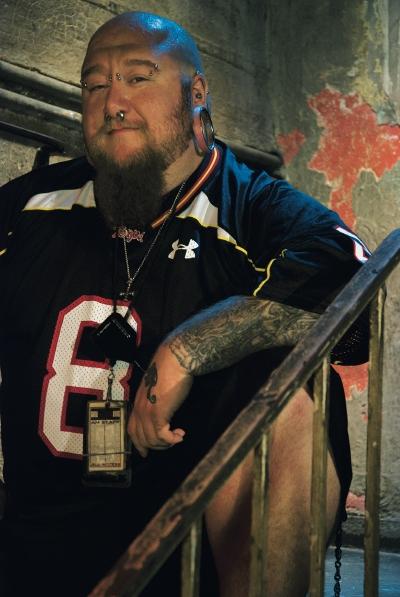 Height: Six-foot-three
Weight: 340 pounds
Age: 32
Josh Burdette is probably the best-known bouncer in DC. With his piercings, tattoos, and shaved head, he's hard to miss. Some people call him "that guy"—as in "Oh, my God, do you see that guy?"
"I know I can be an intimidating presence," Burdette says, "but I don't try to carry myself that way."
A 12-year veteran at the 9:30 Club on V Street, Northwest, he has a psychology degree from the University of Maryland, lives with his grandmother, and previously worked as a camp counselor and tutor. He uses his psychology training on the job.
"I study people," he says. "I'm very good at seeing a problem before it becomes a problem."
His tattoos and piercings are part of a "personal evolution" that stems from his birth in 1976, the Chinese year of the dragon. He has spent more than 200 hours under a tattoo gun; images of dragons trail across his arms, chest, and back. He also has stretched earlobes, elemental symbols burned into his fingers, and more than 20 piercings, including silver horns extending from his nostrils.
The 9:30 Club is known for attracting big-name bands along with undiscovered talent, and it has a strict drug and underage-drinking policy. Burdette says people try to grease the skids to get into a sold-out show, meet the band, or avoid getting kicked out for breaking the rules.
"I've been offered drugs, sex, and money," he says. "If I had taken all the bribes, I would be retired and drinking mai tais on the beach."
"Big Rick," 18th Street Lounge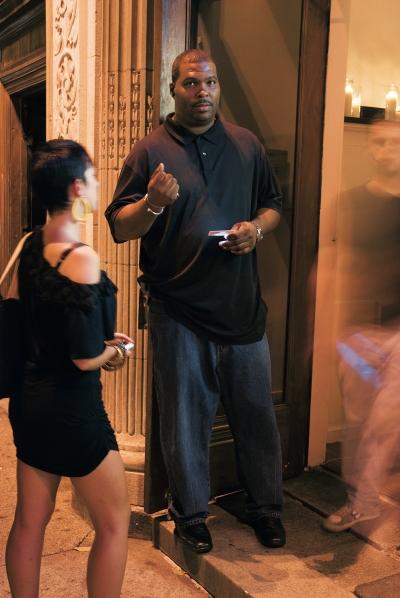 Height: Six-foot-eight
Weight: 330 pounds
Age: Won't say
Behind the unmarked door at 18th Street Lounge, Big Rick checks IDs and enforces the club's dress code: No shorts, no flip-flops. Sneakers are a maybe.
He runs a security company with his brother and has worked at 18th Street Lounge, near DC's Dupont Circle, for four years. It's a mellow gig compared with his previous stints as a bouncer at go-go clubs.
The biggest hassles at 18th Street Lounge are "people who just don't want to abide by the rules," Big Rick says. "Everyone feels they are the special one and that an exception should be made for them. They don't realize that that's what we hear from everyone all night."
At six-foot-eight, Rick can spot arguments across a sea of clubgoers.
"Some people get drunk and get angry; some people get drunk and get jovial," he says. "You have to feel it out and twist and bend with the situation. If they're in a joking mood, joke with them right out the door."
Rick, who doesn't disclose his age or last name, accepts the occasional tip but won't take bribes.
"Some people try to whisper to me," he says. "The funnier people are the ones who just say it out loud for everybody to hear."
The best part of the job?
"It's fun to sit outside and see the people go by, see how things go down, just see the whole nightlife thing unfold."
Theodore "TK" King, Whitlow's on Wilson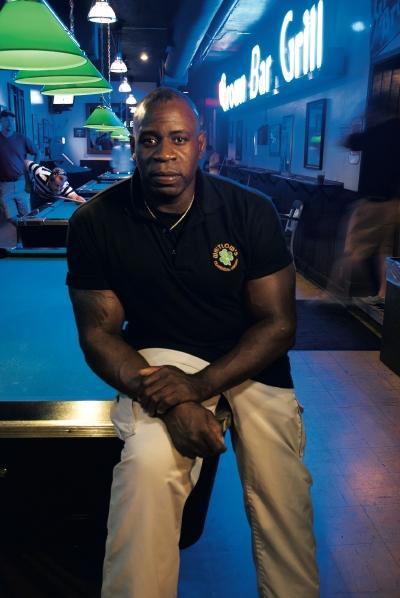 Height: Five-foot-eight
Weight: 220 pounds
Age: 42
The first thing most people notice about Theodore King, or TK, is his arms. He can bench-press 435 pounds, and he works out three hours a day. But his easygoing nature often helps more than his muscles do when he's dealing with troublemakers.
"You get some up in here who want to prove themselves," he says. "I try to talk them out of it. I like to make friends of them when they come through the door. You can be surprised by what you get back in return."
King, a full-time auto-parts truck driver, has been a bouncer at Whitlow's in Clarendon for a decade and has plenty of stories. One night, a drunk staggered outside and circled the block five times looking for his car, which was parked in front of the bar. "He said, 'I need help finding my car.' He gave me the car keys, and I heard 'beep beep.' It was right there. I got him a cab and held onto his keys until the next day."
King, who has a girlfriend, gets lots of attention from women who come in and grab his arms. "I love being a bouncer," he says. "I'll probably keep doing it until I can't do it anymore."
Keion "Little Man" Johnson, Lotus Lounge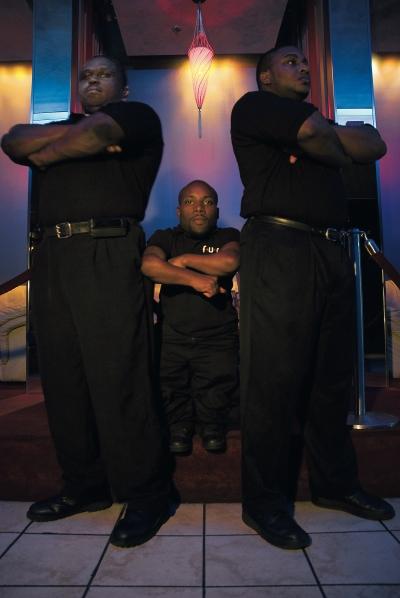 Height: Three-foot-five
Weight: 90 pounds
Age: 30
Keion Johnson is the smallest member of the security staff at Lotus Lounge on DC's K Street, Northwest, but no one gives him grief. "People usually just come over and meet me and take my picture," he says. "But I still enforce the rules."
Being small has advantages. When "Little Man" patrols the club, people often don't notice him until he's on to them. "I look for anything—to see if someone is passed out or catch some underage drinking," he says. "They don't see me coming. I can catch them before almost anybody else."
A DC native, Johnson has worked as a custodian, carpet layer, landscaper, and bookbinding worker. He was photographed at Fur, a sprawling nightclub in Northeast DC, where he worked for 2½ years. He recently moved to Lotus Lounge, a smaller club owned by the same company.
Wearing a black suit and pink tie, Johnson carries a flashlight and radio. He has never been in a fight. "They don't mess with me," he says.
Dealing with people who have had too much to drink is a bigger issue: "If you've seen one drunk, you've basically seen them all. Usually they just pass out somewhere, on the couch or in the bathroom. We put them outside."
This article first appeared in the June 2009 issue of The Washingtonian. For more articles from that issue, click here.