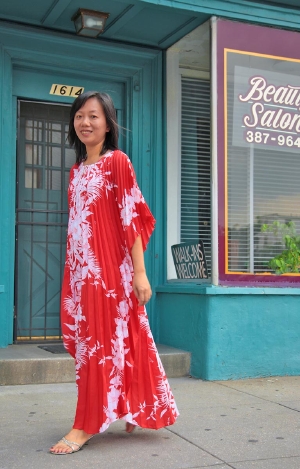 Photograph by Ken Wyner;
www.kenwyner.com.
Alice Ng, 46
Photographer, Anfoto
What she's wearing: Vintage dress from a shop in Charlottesville, Kenneth Cole shoes.
What do you like to wear? "Anything that looks good. I'm not afraid of color. I'm a very colorful person."
Where do you like to shop? "Rerun in Takoma Park. And I go to Hong Kong every two years and shop there."
You moved here from New York recently. What are the differences in style? "People are a little more playful in New York."
Anything on your wardrobe wish list? "No, I already have too much. People just don't need that much stuff."
Rachel says: Maxi dresses were big last summer and this season, but the silhouettes have gotten somewhat predictable. This accordion style is a bit unexpected.
Earlier:
Sidewalk Style: High on the Hill
Video Sidewalk Style: Star in Stripes
All Sidewalk Styles
More>> Shop Around Blog | Style | Find a Spa