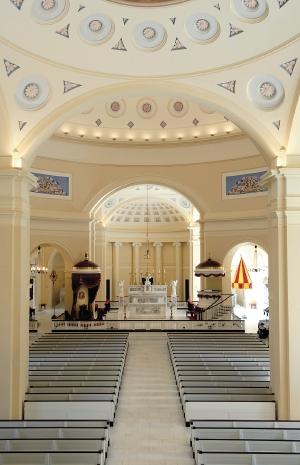 See the full Fall Weekends Guide >>
Looking for a day trip with a dose of culture? In Baltimore's historic Mount Vernon, a neighborhood graced with manicured parks and 19th-century architecture, it's a short walk from art gallery to museum to cathedral. Shop for finely crafted furniture or a first-edition book, dine on reasonably priced Italian or Indian or Afghani, and end the day in a 100-year-old bar. Parking is plentiful.
Sights and Shopping
Basilica of the Assumption, 409 Cathedral St.; 410-727-3565. Bells chime via satellite technology at the basilica, the first Catholic cathedral built in the United States. A renovation has brought it back to architect Benjamin Latrobe's original glory, including a central dome with 24 skylights. Tours Monday through Saturday at 9, 11, and 1, Sundays at noon.
Enoch Pratt Free Library, 400 Cathedral St.; 410-396-5430. Brochures detail the library's art and architecture, including an ornate ceiling patterned after a church in Rome. The 100-foot central hall contains portraits and historical paintings, many of which honor Marylanders. The Poe Room exhibits letters and memorabilia of Edgar Allan Poe. Need caffeine? Pratt Café is tucked inside the entrance.
Contemporary Museum, 100 West Centre St.; 410-783-5720. At the Contemporary, art is seen as a catalyst for social change. The fall show, "Fax," features more than 100 artists exploring the graphic potential of the fax machine.
Walters Art Museum, 600 N. Charles St.; 410-547-9000. In addition to works by El Greco, Raphael, and Bernini, treasures include medieval armor, a seventh-century silver bowl from Iran, and the oldest surviving Chinese wood-and-lacquer image of the Buddha (late sixth century).
C. Grimaldis Gallery, 523 N. Charles St., 410-539-1080. The city's oldest contemporary-art gallery specializes in sculpture by post–World War II artists. Peabody Library, 17 E. Mount Vernon Pl.; 410-659-8179. More than 300,000 volumes, most from the 18th and 19th centuries, are housed in a dramatic setting: Five tiers of cast-iron balconies rise to a skylight 61 feet up.
Mt. Vernon Place United Methodist Church, 10 E. Mount Vernon Pl.; 410-685-5290. The Gothic building is made of six types of stone, including now-rare green serpentine marble. Pews that seat 900 are American walnut, carved by one man over seven years. Attend Sunday services at 11 am, pop in if the doors are open, or just admire the architecture.
Meredith Gallery, 805 N. Charles St.; 410-837-3575. A birch table with wavy edges is one example of art furniture found at this gallery, which sells the work of emerging and established contemporary American artists. It also carries ceramics, other fine crafts, and paintings.
Garrett-Jacobs Mansion, 11 W. Mount Vernon Pl.; 410-539-6914. The work of two of America's most distinguished architects, Stanford White and John Russell Pope, this 19th-century brownstone is truly grand: A carved, curved staircase is topped by a Tiffany glass dome. At 39,000 square feet, it's the largest townhouse ever built in Baltimore. Today it's the Engineers Club headquarters. Tour Tuesday through Saturday 1 to 4; reservations suggested.
Antique Row, 800 block of N. Howard St. and 200 block of W. Read St. The oldest antiques district in the United States—dating from the 1840s—has 40 vendors that attract connoisseurs and casual collectors to art, furniture, books, silver, toys, and gifts. Drusilla's (817 N. Howard St.) sells old and rare books as well as posters and prints.
Weekend Brunch
City Cafe, 1001 Cathedral St.; 410-539-4252. Local art is always on the menu at City Cafe, a popular dawn-to-dusk eatery where a new artist is displayed every few months. Built as a car dealership in 1923, the building retains its original expansive windows. The weekend brunch includes a lump-crab Baltimore Benedict.
Artful Lunches
Donna's, 800 N. Charles St.; 410-385-0180. This cafe/coffee bar is open 9 am to 10 pm on weekends. Fresh baked goods and creative salads and sandwiches are served against a backdrop of art on display and for sale.
Indigma, 802 N. Charles St.; 410-605-1212. Indigma is known for its attractive dining room and modern Indian tapas, called thali tapas—open-faced samosas with nontraditional fillings, coconut salmon, and "avocado nirvana"—all reasonably priced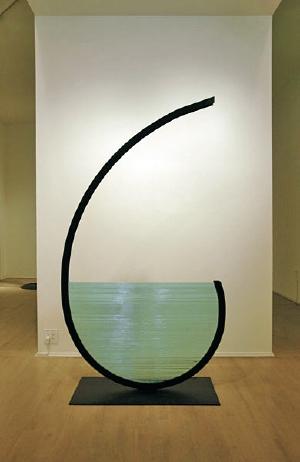 Stay for Dinner
Sotto Sopra, 405 N. Charles St.; 410-625-0534. Pasta is made in-house, and the risotto is divine, as are the murals. Ask about the Sunday opera-night menu.
The Helmand, 806 N. Charles St.; 410-752-0311. Owned by Qayum Karzai, brother of Afghanistan's president, Hamid Karzai, the Helmand is a white-tablecloth restaurant with deli pricing. Try the kaddo borawni appetizer: pan-fried and baked baby pumpkin seasoned with sugar and served on yogurt garlic sauce. The place also has a way with lamb and vegetarian dishes.
Have a Drink
The Brewer's Art, 1106 N. Charles St.; 410-547-6925. Ranked the number-one bar in America by Esquire. Patrons come for Resurrection ale and the other house-brewed Belgian-style beers as well as for the rosemary-garlic fries with mayo.
Owl Bar, 1 E. Chase St.; 410-347-0888. Once a speakeasy in the 1920s, this watering hole is more than 100 years old. The long mahogany bar, brick floors and walls, stained-glass windows, and brass create a clubby ambience. Maryland's governor and Baltimore's mayor are frequently spotted here, sipping under a watchful owl statue.
Grand Central, 1001-1003 N. Charles St.; 410- 752-7133. Readers of the Baltimore City Paper vote this the best gay bar year after year for its high-tech, industrial dance floor, karaoke, and resident drag queens.