New York's Fall Fashion Week has come and gone—the last day was September 18—but the range of its runway looks are just beginning to appear in stores. From boxy '80s-style sweaters and electric-colored leggings to feminine, waist-cinching dresses inspired by the '40s, the looks are vivified tributes to fashion history. Here's one Fashion Week look that's definitely a splurge—and some inexpensive ways to recreate it.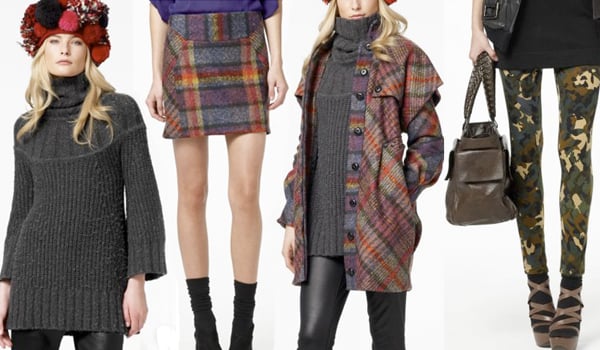 You'll likely see styles that echo the rich nomadic patterns and contrasting silhouettes of Diane von Furstenberg's 2009 fall collection, which employs lush reds, feathery textures, cool slate grays, and animal prints to evoke a look that she calls "queen of the desert." Her iron-gray wool sweater is a solid, elegant fall piece, with high-cut sleeves and a sleek hemline that hits at mid-thigh. It's paired on the runway with a short—so short it almost vanishes—schoolgirl-style plaid skirt in muted fall colors, worn with bright tribal-patterned tights. The swingy vintage-inspired plaid coat with apple and plum colors is especially versatile: The decorative shoulder piece can be unbuttoned and removed for a different look.
Living on the cutting edge of fashion doesn't come cheap, though. The wool sweater is $345, the skirt $225, and the coat rings in at $675. The tights shown here are runway-only, although DVF tights in similar styles and colors are available for $115 here. Choose pieces that can work with much of your current wardrobe—the daring patterns make them great for livening up fall basics.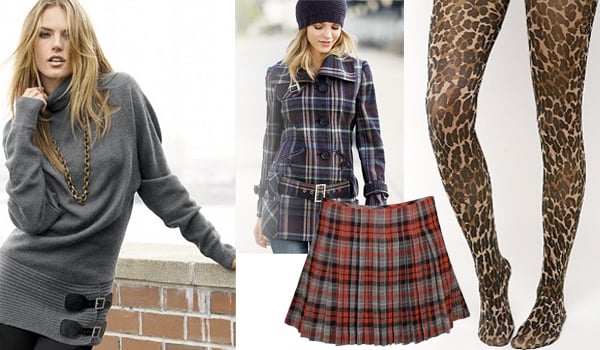 If you're not ready to spend the next two months' rent on fall fashions, check out these great pieces that can help you achieve the fresh-off-the-runway look for much less.
This slate-gray turtleneck tunic sweater from Victoria's Secret can easily be dressed up or down; the low hemline makes it perfect for a skirt, leggings, or tights. Plus, the price is right: It's on sale for $49, marked down from $58.
While you're on the site, check out the fall outerwear line—especially this playful belted jacket with extra-large buttons and a wide collar. The chocolate plaid, in leafy shades of red, yellow, and forest green, makes it ideal for fall. So does the price: Originally $148, this coat is on sale for $129.
Don't be shy about mixing plaids, either: Try adding a short plaid skirt that stays in the same color palette for a fresh twist on a fall classic. This cute cherry-red pleated skirt from Forever 21 also picks up the slate of the sweater and the buttery beige in the coat. Plus, it's a steal for $15.80.
Shake up all that plaid with a little edginess from a pair of jungle-patterned tights. These leopard-print Betsey Johnson tights from Urban Outfitters add a DVF-worthy wild touch—and at $28, it's a runway detail you can afford.
More>> Shop Around Blog | Style | Find a Spa