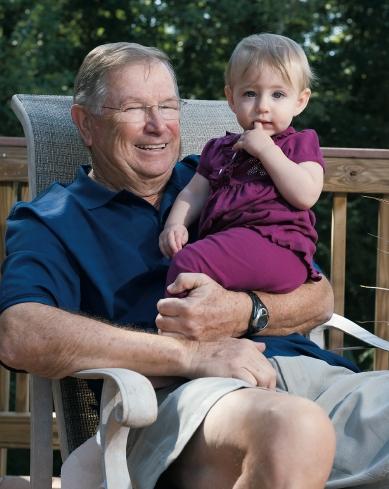 When Redskins trainer Lamar "Bubba" Tyer retired after the 2008 season, it marked the end of many eras for the NFL team.
A native of Nederland, Texas—where Bum Phillips once coached the high-school football team—Tyer had the same gridiron aspirations as many boys growing up in Texas. But at age 11, he was injured after being hit by a truck while riding his bicycle and was told he'd never be able to play contact sports.
Tyer decided to stay involved as equipment manager for his high-school football team. As a freshman at the University of Texas, he worked with famed Longhorns trainer Frank Medina. Too much time in the training room and not enough in the library led him to transfer to Lamar Tech (now Lamar University) in Beaumont, where he worked under Bobby Gunn, another widely respected trainer.
When Tyer graduated from college in 1967, he joined the Marine Corps. Gunn, a former Marine, helped Tyer land a job as trainer for the Marine Corps varsity-sports programs based in Quantico. He spent three years there, then joined the Redskins as an assistant trainer in 1971 when Gunn became head trainer in George Allen's first season.
Gunn left after a year, but Tyer stayed on and in 1976 was named head trainer. He retired briefly after the 2002 season but came back when Joe Gibbs returned for his second tour of duty. Tyer continued as director of sports medicine for the only NFL team he's ever worked for—38 seasons, 602 regular-season games, five Super Bowl appearances, and three world championships.
In 2003, Tyer was inducted into the Redskins Ring of Fame at FedEx Field. When he retired after the 2008 season, team owner Daniel Snyder said that "no one has given more to the Redskins than Bubba—more time, more help, more support, and more love."
Tyer, who is 66, and his wife, Cathy, live in Ashburn, a few minutes from Redskins Park, where he occasionally drops in to see old friends. He's playing a lot more golf these days, babysits his 14-month-old granddaughter, Sophia, twice a week, and plans to do some traveling.
When you arrived in 1971, Sonny Jurgensen and Billy Kilmer were the quarterbacks. What kind of shape were they in compared with players in the current era?
Well, they were in terrible shape. Back then, quarterbacks didn't lift any weights because they thought it might hurt their arms, and Sonny had one of the greatest arms in the history of the game. He'll also be the first to tell you that the only year he was in great shape was the year Vince Lombardi coached the team—in 1969. There was no paunch that year. When he ruptured that Achilles, let's just say he really wasn't a great rehab guy, and then he also hurt his knee. But Sonny could throw that football. Billy was one of the all-time tough guys. He was a fireball on and off the field and extremely loyal. You mention the name of the old New Orleans Saints owner who let him go and his face still turns red with anger.
What's the greatest Redskins Super Bowl play you saw?
No question it would have to be John Riggins's touchdown run against the Miami Dolphins in Super Bowl XVII at the end of the '82 season. It's close, it's the fourth quarter, the game is on the line, and he just busts one and clinches the win for us. I've still got the picture of him breaking that last tackle hanging in my den.
How about the greatest Redskins team performance in a Super Bowl?
That's easy. Second quarter against Denver in Super Bowl XXII. We were down 10–0 early, and they kicked off to us—our guys told me we almost fumbled the kickoff down by the goal line. If Denver recovered that fumble and went up 17–0, it might have been a whole different game. Instead, we had five possessions in the second quarter, scored on every one of them, and won easily.
Any great Redskins overachievers?
Brian Mitchell actually surprised me. When he was a rookie, he was running the streets better than he was running the football, and I never thought he'd make it. But give the guy credit. The light went on, and he had a great career.
Who's the strongest guy you've ever had?
That's hard to say because there were so many. Dexter Manley had great natural strength. Phillip Daniels maybe. But I'll tell you, the hardest-working guy I've ever been around is Andre Carter, our defensive end now. The guy pushes himself to the max like I've never seen before. It's just amazing how hard he pushes his body.
The fastest?
No contest—Darrell Green. The guy might not run for months, then come out and do a 4.2 in the 40-yard dash. I taped his ankles for 20 years. One day late in his career, I told him I'd taped another cornerback who had played the position for 17 years—Pat Fischer. Darrell says, "Yeah, but I played a tougher corner than he did."
What made the Hogs so special?
There was a real bond there between all those guys, and I really admired that group. They played hard, and they played for each other—always putting their teammates first. And they were a group of really tough guys. Jeff Bostic was undersized. Joe Jacoby had been a free agent and had a lot to prove. Russ Grimm was the leader. It was just a special group of guys who came together, and Joe Bugel was obviously a big part of it. He put his arms around them, and they really responded.
What kind of advice would you give all those weekend warriors on how to prepare for their sports?
A lot of people will just sit around until the season comes around, then they'll go out there the first day, run around at full speed, and pull a muscle or twist an ankle. You have to prepare yourself. Start stretching, working out, and be prepared when the season starts. It's just common sense.
How has the role of team trainer changed from when you joined the organization in 1971?
George Allen had ten assistant coaches, and Joe Gibbs had 20 his second time around. When I started as assistant trainer, I also ran the weight room and worked the off-season conditioning program. There were only two of us in the training room. Last year, there were five—and also three strength-and-conditioning coaches. Back then, we had a whirlpool, an ultrasound machine, a heat lamp, and an ice machine. Players would come in, get in the whirlpool, loosen up, and go to practice. Now we have two full-time therapists and two certified athletic trainers. Everything is computerized—every workout and rehabilitation program for every player. The standard of care in the NFL now is ice and immediately an MRI so we know exactly what's wrong.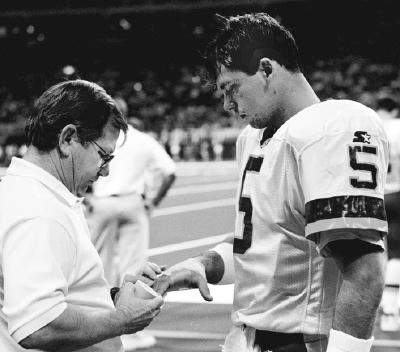 How much pressure is there on the training and medical staff to get injured players back on the field?
I know people talk about how the doctors and trainers are pressured by the owners, the general managers, the coaches. Mr. Snyder rarely talks to the doctors. I think we all put pressure on ourselves. You want to do a good job, you want the team to be as healthy as they can be, and you want to have your best players on the field on Sunday.
I remember one incident with Jack Kent Cooke. It was Richie Petitbon's only year as head coach—1993—and Rich Gannon was the quarterback. He had a foot injury, and Cooke came in and said, "I want you to send him to my dear friend Bob Kerlan," the great orthopedic surgeon on the West Coast. Dr. Kerlan loved telling the story about once saving Jack Kent Cooke's life. When he owned the Lakers, Mr. Cooke had a heart attack at the Forum and Dr. Kerlan did CPR and saved him. Dr. Kerlan always liked to say, "And people out here haven't forgiven me yet—ha ha ha."
So Snyder doesn't get involved with injured players?
He never got involved. He'll want to know how someone is doing, but it's never been "do it this way" or "do it that way." If one of his key guys is hurt, he'll come in and give him a little pat, show a sense of caring to the player. And he does care.
Players come back now from injuries faster than ever, and I don't think the average person understands how that happens.
Give the players a lot of credit. They're neuromuscular geniuses—tough, strong, and skilled. If you watch an injury occur in a game, you'll see us rush out on the field, and there's a protocol on how we treat it and diagnose it. Immediately it's ice and pressure and using some of the electrical stimulators on it. We treat it aggressively. We have so many tools in the training room and the weight room.
Anyone you recall making a so-called miraculous comeback from a really serious injury?
Remember Jeremiah Trotter, the big linebacker who came to us from Philadelphia? He had major reconstructive surgery to fix his anterior cruciate ligament and also had his other knee scoped at the same time. He walked in the day after the surgery with no crutches. That was absolutely amazing.
Pro football has had its share of problems with drugs like amphetamines and steroids over the years. How has that changed?
I can honestly say that from 1971 through the end of my career, the Redskins never administered a steroid or an amphetamine to a player. We certainly had to use pain medications, antibiotics, a ton of anti-inflammatory drugs, going back to when we used butazolidin, which we don't anymore. But some players found a way to get some of that stuff on their own. The guys in the 1970s used amphetamines to get up for the games, but you don't see that anymore.
How did they get them?
Guys would get their wives to get prescriptions for diet pills, or they'd have a friend do it. And you could tell when they were using them because you could see it on the sidelines. One player had taken so much of that stuff, he put pine tar in his mouth and his damned teeth stuck together. I'm back in the locker room with some kind of solvent trying to get them loose. I thought at one point he was going to choke. The same guy used to put analgesic balm on his tongue to cut cotton mouth, or he'd put stickum on his tongue because he was so high.
Every Redskins fan knows where they were when Joe Theismann's career ended after a hit by Giants linebacker Lawrence Taylor shattered his leg. What do you remember about that night in 1985?
I was the first one to get to Joe. The leg was bent the way it wasn't supposed to be bent. The referee did a great job because he held him there until we got to him. As I was holding Joe's leg, I saw the blood coming through his sock and knew he had a compound fracture. I remember LT waving at us to get out there.
But I also tell people that was not the worst injury I've seen. The worst was Bob Brunet, a backup running back in the 1970s. I always say that I like to see my guys squirming a little after they're hurt. I like to see them moving. To go on the field when a player is out cold or can't move is such a terrible feeling. At first, Bobby wasn't moving. As we were putting him on a stretcher, he felt something in his butt, and that was a good sign. By the time we got him to the ambulance, he was able to move his legs somewhat. I stayed with him in Dallas overnight, and then we got him back to Washington the next day. He had fractured a vertebra in his neck and never played again.
I also remember Jeff Bostic when he dislocated his knee one year and tore about every ligament in there. He looked at me just as calmly as could be and said, "Bubba, I've really done it now."
Who were some of the tough-as-nails guys?
Pat Fischer was an all-timer. We're talking about guys who are mentally tough, who find a way to play with their injuries. Larry Brown was one. Gary Clark played with a pulled hamstring, and I've never seen anyone except him do that.
When you're hurt, you run the risk of hurting yourself worse, so you have to be smart. Some guys will say to you, "How's it going to make me look if I don't play?" Then there are some who don't care—they just want to play. Look at Jon Jansen. I've never had a guy play with two broken thumbs. I don't think there is anyone who could play that tackle position with all those speed rushers coming at you with two broken thumbs. But Jansen stayed on the field for Coach Gibbs. That's one tough guy. We all got down on him the last few years because he really couldn't play anymore. He was slow-footed to begin with, and one year he dislocated an ankle, and the year before he ruptured his Achilles tendon. But he tried, and those are the kind of guys you love. I have a saying that "tough players make good trainers."
What was John Riggins like?
He was never on my training program. I wasn't one of his guys. I didn't go out drinking with him. The guy was an amazing athlete. I got mad at him because he was running the streets and drinking. He had guys going out with him who were lesser talents—they tried to run the streets with him, and it ended their careers early. Those boys loved to go out drinking with Riggo, but they couldn't keep up.
There's been an old urban legend that one year during the playoffs, Joe Gibbs was so concerned about Riggins running the streets that he asked the medical staff to put him in the hospital and get him in traction.
That never happened. John really did have a bad back. That's why he was in traction. He did like to drink. And back in those days, the Fairfax cops would take John home. With DUI as big as it is, that wouldn't happen now.
Doug Williams looked as if he suffered a serious knee injury early in Super Bowl XXII against Denver, but he came back and was the MVP. How did you get him back on the field?
For years, Doug's knee would only bend about 90 degrees, and he played that way for a long time. In the first quarter, he got his knee bent back, and he came out for a series, then went back in. It wasn&rsq
uo;t any more unstable than it already had been, so he just shook it off.
At halftime, I went looking for Doug and he's sitting on a chair with his leg hanging over Dr. [Charles] Jackson's lap and he's being injected with Xylocaine. It helped Doug get through the game, and afterward he was on crutches. This was unusual—you don't usually put that in someone's knee, but it was the Super Bowl and Doug and the doctor both thought it was the right thing to do, and it was. He had a bad knee to begin with, and that's not what ended his career. He hurt his back on a treadmill. It became a workman's-compensation case, and he was awarded $513 a week for the rest of his life.
You had decided to retire after Steve Spurrier's first season but came back when Joe Gibbs returned.
I was in Hilton Head and got a call from Don Breaux, one of Joe's assistants and a great friend of his. He says, "Joe is coming back." I said, "No, he's not—that's ridiculous." But then I made a couple of calls and found out it was true. I rushed back home because I wanted to go to the press conference. We met the next day, and he said, "Bubba, I need you." I said, "Okay, time to go back to work."
What made Gibbs so special?
I just think he was such a hard-working, honest guy. The players believed in him and had trust in him, and he was very loyal to the players that busted their butt for him. He has so many good qualities. He's a great storyteller, a great motivator, and when he talked to the team, he could get their attention. They believed, and they played hard for him.
Were you surprised when he retired the first time in 1993, and were you surprised when he walked away again two years ago?
The first time, it was a health situation. He's a diabetic, and at the time that's what was happening to his body. He would have these sensations and these tremors, and that really worried him. He had worked so hard and just wore out his body—the long hours at Redskins Park, sleeping in his office, not eating properly.
I was very surprised when he decided to come back. But I think he was ready for another challenge, and he just loves the Redskins. When he stopped the second time, we all knew about his grandson's illness, and I think he really did just feel the need to be closer to his family. I've heard his grandson is doing fantastic.
What about Jim Zorn?
A heck of a guy, a unique person in the way he expresses himself and talks to the team. But they listen to him. I like his message. He's a different kind of guy—a mountain biker, an artist, and a very religious person. But the players bought into it, absolutely.
Dan Snyder is not the most beloved guy in town. What's your view?
To me, he's getting a bum rap. He cares so much for that team—you can tell by the amount of money he spends. He has been extremely fair and good to me and my family.
Why hasn't this team been back to a Super Bowl since the 1991 season?
I don't think we've had a franchise quarterback. I think with Norv Turner, we were one player away from having a good team—a franchise quarterback. Now Jason Campbell has to prove himself. There are times you see him play and he's the man. Then there are times he doesn't look so good. I know Dan Snyder would love to pay him franchise quarterback money, but Jason has to prove it. He's a fantastic young man, and the players respond well to him. They know how tough he is, and they want him to succeed.
How dangerous is the NFL, especially with guys getting bigger, faster, stronger?
Yeah, it's tough, it's a man's sport, and it's for the young. If you play ten years in this league, you've done something. Get tough players and a talented quarterback—that's the key. We had an assistant coach here, Billy Hickman, and he used to say, "The longer you're in this business, the closer you get to .500." I'll be damned if he wasn't right.
This article first appeared in the October 2009 issue of The Washingtonian. For more articles from that issue, click here.