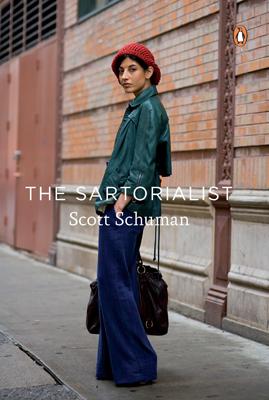 Fashion enthusiasts unaware of Scott Schuman (though we doubt many of you still exist) are in for a delightful treat the first time they log on to his blog. Aptly dubbed the Sartorialist, the ace photographer uses his domain space to exhibit strikingly sophisticated style from all over the world.
His subjects are real-life people (and the occasional celebrity nonchalantly thrown in), wearing clothes from their real-life wardrobes, on the streets of their real-life cities. In town for today only, The Washingtonian was lucky enough to catch up with the dapper gentleman to talk about his new book, future plans, and personal sources of style inspiration.
You're in town celebrating the launch of your new book. What can readers expect from The Sartorialist in paper form?
"The Sartorialist is a collection of photos from the blog—three to four years worth of images—and a little bit of writing. I looked at the photos in layout form to see what looked best next to others. There have been some great photos, but if something didn't work in the layouts, we didn't use it."
Why take your pictures offline and put them into something more tangible?
"I've done the blog for a while, so the logical next step seemed to be having photographs you can hold. This book is the first time a lot of those photos have been printed—it makes them more special."
What goes into capturing a subject?
"I don't look for trends—it's much more unique than that. Actually, I don't really look for anything—I react to what I see, be it color or shape, posturing, or a mix of genres. I challenge myself to keep my mind open—when you go out looking for something, you miss what's around you. I also ask [my subjects if I can photograph them] 99 percent of the time. I don't usually ask during Fashion Week though, because there's a million other cameras around."
Are you conscious of the editorial effect your pictures have on fashion audiences?
"I never intend for that. It's much more personal, and in a lot of ways what I do is very selfish. I shoot what I want to, do what I want to, when I want to do it."
You've traveled the world in search of fashionable people. What are your favorite cities to scout in?
"New York because of the variety. Milan, Italy, because [the people] are unique and classy. Most other places, when it's good, it's usually great, but it can be bad as well."

With Sartorialist traffic numbering in the hundreds of thousands, do you ever come across any unexpected fans?
"I was in Paris, and Where the Wild Things Are director Spike Jonze said 'I've seen your site.' Fashion people never surprise me, but Hollywood people—that surprises me."
Any comments on the future of Sartorialist? What comes next?
"The world of Sartorialist will continue to be my main focus. I'll go where I want to go and put those materials on the blog. As the site keeps evolving, I'll look into branding with products and endorsements."
What new places would you like to shoot in?
"More diverse places, like Tibet or Peru—places that aren't necessarily fashionable but more about style are on the list. Japan would almost be too easy, but I'm looking to head there or Peru in 2010. Jakarta as well."
People all over the world look to people you find for fashion inspiration . Where do you turn for style ideas?
"Garance Doré is my number one inspiration."
Not enough Schuman for you? The photographer will be signing copies of his new book, The Sartorialist, at Masa 14 (1825 14th St., NW) tonight from 9 to 10. Call 202-328-1414 for more information.
More>> Shop Around Blog | Style | Find a Spa