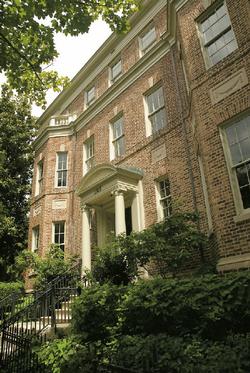 ABC announced that its chief Washington correspondent and host of This Week George Stephanopoulos will take Diane Sawyer's spot as anchor of Good Morning America.
This could be good news for the New York real estate market—every time Stephanopolous gets a big promotion, he upgrades to a more expensive house.
While working in the Clinton White House, Stephanopoulos lived on two floors of a Dupont Circle townhouse on Connecticut Avenue, above what is now Marvelous Market. He bought the three-story townhouse for $835,000 and rented the ground-level retail space to a now-defunct eyeglass store called Eye Gotcha.
In 1997, the same year he joined ABC as a news analyst for This Week, he sold the townhouse for $1,050,000. In 2002, the year Stephanopoulos began anchoring This Week, he bought a 4,400-square-foot townhouse on 28th Street in Georgetown for $2 million.
A few months after his December 2005 promotion to chief Washington correspondent, he unloaded that place for $2,850,000. He and wife, Ali Wentworth, the Washington debutante turned comic actress, then paid $5.2 million for a five-bedroom, seven-bath house just around the corner on 31st Street.
Although no "for sale" signs are up yet, rumor has it that there's already a flurry of interest in the century-old Georgian, which has six fireplaces, a "gourmet cook's kitchen," elevator, and three-car garage.
If his real-estate buying pattern holds, Stephanopoulos is on course to spend at least $10 million on a pad in New York. Julie Pham of the Corcoran Real Estate Group in Manhattan says that amount could get him a penthouse with at least 3,000 square feet in a premier building in Gramercy Park, his old stomping grounds. If he opts for the West Village, he could buy a townhouse with at least four bedrooms.
No matter which neighborhood Stephanopoulos ends up in, he'll undoubtedly have a hard time finding another three-car garage.