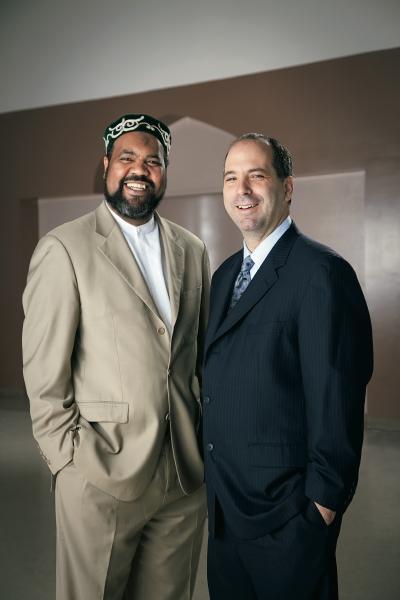 It sounds like the start of a joke: So this rabbi walks into a mosque. In fact, it's the latest installment of a very good story: An imam and a rabbi in Northern Virginia are working together to increase understanding between their religious communities.
For nearly six years, Imam Mohamed Magid, spiritual leader of the All Dulles Area Muslim Society, and Rabbi Robert Nosanchuk, leader of the Northern Virginia Hebrew Congregation in Reston, have been holding public dialogues.
"You don't avoid the barriers," Nosanchuk says. One of the conversations focused on the role of women in Judaism, Islam, and Christianity. The idea was to talk about the teachings of each faith, not to criticize them.
The two religious leaders don't shy away from tough issues. Last May, the FBI and the New York Police Department arrested four men who had been planning to blow up two Bronx synagogues. Magid and Nosanchuk implored their congregations to stand together to denounce the violence, hatred, and religious bigotry.
They've also discovered common interests: Both are fathers of young children and are concerned about how religion is taught in public schools.
Getting their congregations to be comfortable with each other is another challenge.
Every Friday afternoon, Muslims use a room in the synagogue for weekly prayers. Some members of the Northern Virginia Jewish Congregation have been pleased to see that the mosque draws people from many countries. One day, Nosanchuk addressed 1,000 Muslims at a prayer service. That night, Magid spoke to the Jewish congregation gathered for a family Sabbath service. Says Nosanchuk: "The kids were paying close attention."
The two would like to have their congregations undertake community projects—maybe working together to help a homeless shelter.
In the past year, they've done more work together despite flare-ups of violence in the Middle East. They hope to coordinate a trip there with Christian clergy.
"America is a great place to foster understanding and cooperation for people of faith," says Magid. "We believe that this experience has to be shared on the global level."