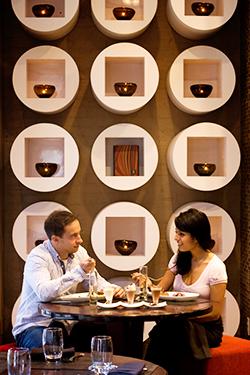 ACKC
A mecca for those who worship the cocoa bean, this arty cafe, a joint venture by chocolate makers Eric Nelson and Robert Kingsbury, offers a selection of inventive hot-chocolate combinations, all named after iconic Hollywood actresses. We like the Audrey Hepburn, a dark-chocolate espresso brew; the semisweet Liz Taylor, topped with whipped cream and pistachios; and also the crème-de-menthe-laced Marilyn Monroe.

Adour
In honor of St. Valentine, this haute French restaurant, owned by the exalted chef and restaurateur Alain Ducasse, will feature a sweethearts menu that includes aphrodisiac cotton candy as well as chocolate crumble and crémeaux with raspberry sauce. The macarons—one of Ducasse's signature sweets served to every diner—will be specially flavored with rose water and white chocolate. Guests may order desserts à la carte at the bar.

Black's Bar and Kitchen
Pastry chef Catherine McArdle offers six desserts on the ever-changing dessert roster, some of which have included cinnamon-chip bread pudding laced with bourbon caramel as well as white-chocolate crème brûlée garnished with slow-roasted strawberries.
Black Market
Of Jeff and Barbara Black's four restaurants, Black Market is arguably the most charming. Pastry chef Jacqueline Castaldo adds touches of sophistication to traditional desserts. There's coconut cheesecake with caramel-orange sauce and a lemon-mousse cake with chantilly cream, but we'll forever yearn for the warm apple crisp, topped with oats and served with vanilla-bean ice cream.
Bourbon Steak
Pastry chef Santanna Salas prepares a selection of traditional sweets with inventive twists. One of our favorites is the butterscotch pot de crème, which is made with 18-year-old Macallan and served with pumpkin-spice cake. Other highlights include a caramel apple that's lavished with cinnamon ice cream and a coconut-filled candy bar made with milk chocolate, praline caramel, and Marcona almonds.
Buzz Bakery
The bakery case at this pink-walled dessert lounge is always stocked with at least five cupcake flavors, including traditional favorites chocolate, vanilla, and red velvet. In addition, pastry chef Josh Short always offers a seasonal flavor plus gluten-free options in both vanilla and chocolate. Try pairing them with cocktails inspired by lemon cake or toasted almonds.
Co Co. Sala
At this Penn Quarter chocolate lounge, pastry chef Santosh Tiptur offers a choice of four three-course dessert tasting menus for $20 to $22. The Aztec experience menu includes an amuse-bouche of churros with cinnamon cream, followed by a hot-chocolate soufflé with espresso gelato, and a petit-four plate with chocolate-infused horchata.
Cornucopia
Owner Ibrahim "Ibo" Selmy offers an array of Italian confections such as gelato, made-to-order cannoli, and miniature sandwich cookies. We recommend the sfogliatelle, a crispy, sugar-dusted pastry filled with lemon-ricotta cheese.
Just Cakes
This neighborhood bakery offers a special sweethearts menu, which includes red-velvet cupcakes, chocolate-dipped strawberries, and a six-inch heart-shaped cake covered in dark-chocolate ganache. The bakery case is also stocked with the usual sweets: pound cakes, breads, pies, tarts, and dessert bars.

Liberty Tavern
There's cardamom crème brûlée with biscotti dipped in white chocolate, profiteroles served with Bing-cherry/mint gastrique, and German chocolate cake accompanied by a scoop of black-salt/butter ice cream. If your tooth is a little more savory than sweet, try some of the many selections of cheeses.
Praline
Co-owners and pastry chefs Patrick Musel and Susan Limb load the bakery case at this French bistro with all kind of sweets, including rustic apple tarts, chocolate éclairs, and coconut macaroons. Oh, the macaroons!
Trummer's on Main
Pastry chef Chris Ford, formerly of New York's whimsical ChikaLicious Dessert Bar, has created a selection of decadent desserts, including a caramel apple with crème fraîche ice cream and applesauce sorbet. But we think the creamy chocolate pudding, complemented by hazelnut sorbet and crunchy cocoa nibs, is one of the best desserts.
Vermilion
At this Old Town haunt, gifted chef Anthony Chittum oversees the entire menu, including desserts. On Valentine's Day, the restaurant will offer couples a three-course tasting menu, accompanied by a trio of small dessert-wine pours.
Vidalia
Need some Southern comfort? We love co-owner Sallie Buben's vintage recipe for the deliciously tart lemon chess pie, served with lemon custard, blueberry compote, and chantilly cream. Other signature desserts include Georgia pecan pie with bourbon ice cream and peanut-butter crunch bar with bananas and peanut-brittle ice cream.
Volt
This is the home of Bryan Voltaggio, last season's Top Chef runner-up. We'd be remiss if we didn't mention the spectacular chocolate-and-peanut-butter mousse with tonka-bean ice cream, peanut-butter caramel, and cilantro. Other menu items include a banana split with roasted-banana ganache, and a goat-cheese cake with Granny Smith apple sorbet.
Zaytinya
Like the rest of the menu at this José Andrés mezzeteria, the desserts can be ordered regular size and in a smaller mezze portion. What makes our taste buds swoon? A greek parfait, made with Muscat-soaked apricots, vanilla yogurt cream, and apricot sorbet, dusted with pistachio powder. Also good is the chocolate visne, composed of milk-chocolate cream, caramel, cocoa-almond crumble, and cherry sorbet.
>> Looking for the rest of our Valentine's Day guide? Head here.