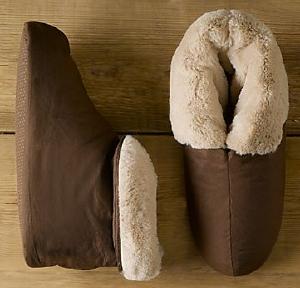 Foot Duvets, $10.
Have cold feet? Warm them up with a pair of Restoration Hardware's down-stuffed Foot Duvet slippers. The unisex booties are lined with a plush fur-like material. They're machine washable and come in seven colors, including Valentine's-appropriate garnet red.
Purse Keychain, $9.99.
Slip a love note or poem inside this heart-shaped coin purse to tell her how you really feel.
For Margrete Half Apron, $9.95.
Help a home cook feel pretty in the kitchen with this half apron from Anthropologie. The one-size-fits-all piece ties in back and comes in red or green. The pockets in front are a cute touch.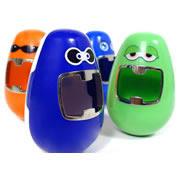 Bobble Bottle Opener, $5.99.
The more you drink, the tipsier these little guys get as they fill with bottle caps. Choose from red, green, and blue.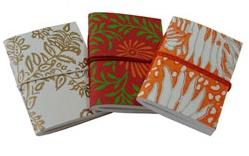 Handmade Printed Pocket Writing Journals, $4.
A writer never knows when inspiration will strike. These 40-page journals are great for jotting down thoughts on the go. For forgetful types, a cute pocket-size notebook might be just the ticket for keeping lists and remembering last-minute grocery items.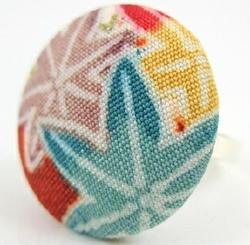 Button Ring, $6 to $9.
Even if you're not ready to propose, a ring makes a great gift. She won't get the wrong idea with a fabric-covered button ring from Baltimore artist Allison Fomich. The buttons are covered in a variety of fabrics, including scraps of colored vinyl, remnants of Japanese kimonos (shown here), bits of velvet, and more. The silver-plated rings are adjusted to fit a range of finger sizes.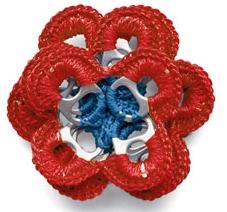 Flip-Top Flower, $14.95.
Here's a flower that won't die in a week. This crocheted brooch, handcrafted in Brazil, is made from recycled pull tabs from soda cans. The pin is about 2½ inches in diameter.
Chocolate Espresso Gift Set, $11.
If you can't afford a day at the spa, bring the spa experience home. This Sephora chocolate-and-espresso-scented bath set includes body wash and scrub. The line also features apple-pomegranate and coconut-cream scents.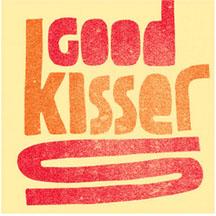 Vintage Vantage T-Shirt, $10 to $19.50.
Who doesn't love a good T-shirt? Vintage Vantage prints super-soft ones for men and women with vintage-inspired graphics and clever slogans. The shirts can cost up to $19.50, but head to the sale section for $10 options. Use the coupon code "Facebook" during checkout and score an additional 33 percent off.
Cupcake Stencils, $5.95.
Use these six heart-motif stencils to decorate cupcakes like a pro. Spring for a box of Barefoot Contessa Red Velvet Cupcake & Frosting Mix ($11.95) for a DIY gift that's sure to impress. >> Looking for the rest of our Valentine's Day guide? Head here.