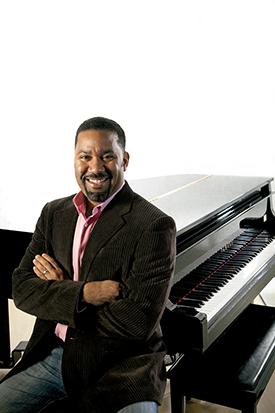 A teenage crush turned Marcus Johnson into a musician.
"I wanted to write a song for this young lady, and I decided, 'Okay, I'm going to do this music thing,' " says the pianist and composer.
Since that first song at age 14, the Silver Spring resident has been on Billboard's top-ten contemporary-jazz chart several times, and his production company, Three Keys Music, competes with major labels.
His smooth jazz mixes everything from salsa to go-go, reflecting his eclectic background. His mother played classical piano, but it was when his funk-loving father took him to see Earth, Wind & Fire that Johnson decided that was the world he wanted.
Johnson, 38, looks buff and polished in his state-of-the-art Studio 8121 in Silver Spring, but that wasn't always the image he projected.
"I must have been the nerdiest guy on campus," says Johnson, who hauled a briefcase, law books, and music equipment around in a shopping cart as he earned business and law degrees from Georgetown University. Although raised in a middle-class neighborhood, he had seen enough down-and-out musicians to know he needed both degrees.
Johnson has produced more than 30 CDs, including 14 of his own; teaches entertainment law at Bowie State University; speaks overseas for the State Department on subjects such as intellectual-property rights; and performs on the road six months of the year.
He plays for charity events, and he produced a CD to raise funds for the Silver Spring YMCA. His performances always seek to inspire.
"Every time I play, I talk," he says. "I call it my keyboard pulpit. I minister to people saying, 'Hey, you can do what you want to do.' "
Johnson learned that lesson firsthand as a teen hanging out on the DC streets with other go-go fans and their boom boxes. "I'd sit and listen with them, but then they'd say, 'You gotta go home now because we're about to go do some bad things.' They saw where I was going, and they wanted me to get there."