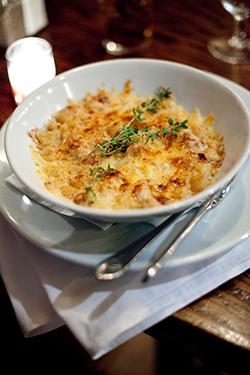 At Kitchen (2404 Wisconsin Ave., NW; 202-333-3877) in DC's Glover Park, diners will find a menu packed with Southern-inspired comfort food. One standout is chef Alex McCoy's Mac + Chicken, which bolsters macaroni and cheese with pulled chicken and caramelized onions. One reader couldn't stop craving it, so McCoy agreed to share his beloved recipe.
Have a restaurant recipe you'd like sniffed out? E-mail recipesleuth@washingtonian.com
Mac + Chicken
Serves two
½ cup pasta shells (small)
1 tablespoon salt (for the pasta's boiling water), plus more to taste
1 tablespoon olive oil
1 tablespoon unsalted butter
1 boneless, skinless chicken breast (or one boneless thigh) cubed
1⁄8 cup of caramelized onion (recipe below)
½ teaspoon nutmeg
Pinch cayenne pepper
Black pepper to taste
¼ cup brandy
1 teaspoon flour
½ cup heavy cream
1⁄3 cup thinly sliced white cheddar
Grated Parmesan cheese as needed
Caramelize the onions:
½ yellow onion, quartered and thinly sliced
2 tablespoons olive oil
In a medium-size saucepan, heat the olive oil over a medium-high flame. When the oil becomes hot and begins to smoke, add the onion slices and stir occasionally, letting them sit for a 1 to 2 minutes between stirs so a brown caramelized crust begins to appear. Turn the heat to medium and cook for about an hour, stirring frequently, until the onions are soft and deep brown.
Make the macaroni and chicken:
In a large pot of boiling water, cook the pasta shells with 1 tablespoon of salt and 1 tablespoon of olive oil until al dente (make sure not to overcook the pasta because it'll cook an additional few minutes when making the dish). Set aside.
Preheat the oven to 450 degrees.
Add the butter to a medium-size saucepan set over medium-high heat. Let sit until the butter is melted but not toasting. Add the chicken and begin to brown. Cook the chicken for 3 minutes, making sure all sides are cooked. Add the caramelized onion and stir. Add the nutmeg, cayenne pepper, and a bit of salt and pepper and stir once again. Immediately add the brandy (if you're using a gas range, pull the pan off the flame and flambé by tilting the pan and igniting the brandy). Add the pasta and flour and stir, cooking for 2 minutes until the flour has emulsified. Add the cream and cook 3 to 4 minutes until the cream thickens and fully coats the pasta when you toss it in.
Transfer the pasta and cream sauce to a 16-ounce oven-proof bowl. Stir in the white cheddar. Top with a thick layer of grated Parmesan. Place in the oven and cook until the Parmesan is golden brown, about 5 minutes.
Subscribe to Washingtonian
Follow Washingtonian on Twitter
Follow the Best Bites Bloggers on Twitter at twitter.com/bestbitesblog
More>> Best Bites Blog | Food & Dining | Restaurant Finder