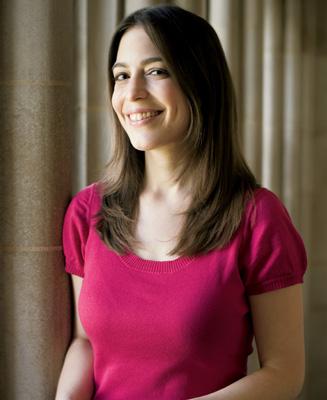 When asked what she wanted to do when she grew up—particularly by her Army-general father—a young Sandra Beasley had a responsible response: "I want to be a poet, so I figure I'll teach English."
But after publishing her first book of poetry, Theories of Falling, winning a prize for her second, and receiving an advance for a forthcoming nonfiction book, she decided to try life as a full-time writer.
Says Beasley, who is 29: "The first thing people say to me at writing conferences is 'I've read your work.' Then it's 'I expected you to be older.' "
Poetry has been a lifelong love for Beasley, who grew up in Arlington and Vienna and attended Thomas Jefferson High School, the University of Virginia, and American University. Her third-grade report card predicted: "Sandra's poems will find a wider audience."
Her poem "Unit of Measure" will be included in The Best American Poetry 2010, and her work landed a DC Commission on the Arts and Humanities fellowship—a highly competitive award that comes with a $5,000 grant. The manuscript of her second poetry book, I Was the Jukebox—out in April—won the Barnard Women Poets Prize.
Beasley, who writes primarily free verse, says she tries to "take a leap into the surreal and escape the limits of the poet's perspective."
In "The Piano Speaks," Beasley—who was listening to music by Erik Satie when she wrote the poem—gives voice to an instrument that has just been played by the virtuoso: For an hour I stood on two legs / and ran. For an hour I panted and galloped.
"The Sand Speaks" is about a beach where soldiers have died: When the men fall / I like the way their arms touch, their legs / touch. There are always more men, men / who bring bags big enough to hold / each other.
Beasley's drive may be due to her competitive streak. In college, when she was denied membership in a debating society, she entered a speaking contest open to nonmembers. She spoke on the importance of evil in children's literature—and won. "It was great revenge," she says.
Once an idea grabs her, she'll write for hours without eating, drinking, or changing position, emerging exhilarated but also "deeply guilty." That's because poetry, she says, is "a selfish part of my personality that is otherwise very practical."
Despite the less-than-steady income of a poet, Beasley—who lives with her boyfriend in DC's Dupont Circle neighborhood—decided to leave her position as an editor at the literary journal the American Scholar to pursue writing. At least for now.
She wanted time to travel—she hopes—on a book tour after her memoir, Don't Kill the Birthday Girl, is published next year. It was inspired by her allergies to a long list of foods—including dairy, beef, shrimp, and mangoes. She credits learning to cope with them for her ability to turn life's burdens into something productive—such as publishable poems.
Beasley appreciates the modest success she's had, but a certain kind of recognition has meant more to her. While her mother, a painter, always nurtured Beasley's creative side, her father was skeptical about her career choice. "Now my dad sends my poems to his friends," she says.
Beasley is planning a new poetry book that will use more formal styles, perhaps reflecting her upcoming 30th birthday.
"As I grow older, I'm becoming more aware of the connections between generations, and I'm falling back in love with rhyme and meter," says Beasley, who counts Langston Hughes as one of her favorite poets. "These are the poems I grew up reading and that I loved."