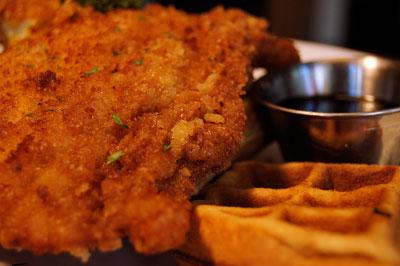 During dinner and Sunday brunch at Clarendon's 3 Bar & Grill, chef Brian Robinson offers an interpretation of chicken and waffles that's so tasty, one reader wrote in to request the recipe.
"It was inspired by my trip to Roscoe's in Los Angeles—one of the most famous chicken-and-waffle houses—and by my grandfather's equally famous fried chicken," says Robinson, a third-generation Washingtonian who cut his teeth at Georgia Brown's.
Coated in a mixture of panko, cornmeal, and Cajun seasoning, the chicken is the savory counterpoint to sweet buttermilk waffles topped with warm maple syrup. "It's the best of both worlds," says Robinson.
The trick to executing the recipe well is the breading. It shouldn't be too salty and should coat the chicken lightly. Robinson uses a bone-in chicken breast, but boneless works just as well.
Have a restaurant recipe you'd like sniffed out? E-mail recipesleuth@washingtonian.com.
Makes 4 to 8 servings
Make the chicken marinade:
1 4-pound chicken, cut into 8 pieces (or boneless breasts)
1 quart buttermilk, plus more as needed
3 medium cloves garlic, smashed
1 teaspoon minced thyme leaves
1 teaspoon minced oregano leaves
1 teaspoon salt
1 teaspoon freshly ground black pepper
Place the chicken pieces in a deep container with a lid. Pour in the buttermilk to cover the chicken. Then add the garlic, thyme, oregano, salt, and pepper, and mix well. Cover and refrigerate for at least 2 hours and up to 2 days.
Fry the chicken:
2 cups panko (Japanese bread crumbs)
1 cup cornmeal
1 cup flour
1 teaspoon sweet paprika
1 tablespoon Cajun seasoning
1 teaspoon garlic powder
1 teaspoon dried oregano
1 teaspoon dried thyme
1 teaspoon adobo seasoning
2 tablespoons bacon fat
Canola oil for frying
Salt and freshly ground black pepper to taste
In a large bowl, combine the panko, cornmeal, flour, paprika, Cajun seasoning, garlic powder, oregano, thyme, and adobo, and season with salt and pepper. Dip the chicken pieces in the breading and coat them evenly but lightly on all sides, shaking off any excess.
Add enough oil to a large cast-iron skillet to fill at least 1⁄8 inch. Heat the oil to 325 degrees. Add the bacon fat to the oil and let it melt. If you don't have an instant-read thermometer, toss in a pinch of coated chicken; the oil should bubble vigorously. The oil temperature should hover around 300 degrees while the chicken is cooking—adjust the heat as needed. Place a wire rack or screen on top of a rimmed baking sheet to drain the finished chicken.
Add half the chicken pieces, placing larger pieces at the center and smaller pieces near the rim of the skillet. Cook for 10 to 12 minutes on each side, using tongs to hold some of the larger pieces on their sides for even browning. The coating may cause the chicken to look darker than you're used to.
The chicken is ready when its internal temperature is 170 degrees for white meat and 180 degrees for dark meat. Transfer the chicken to the rack or screen to drain excess oil. Repeat method for the remaining chicken.

For the waffles:
4 eggs
2 egg whites
2 tablespoons vanilla
1 stick butter (from a 1-pound package), melted
1¾ cup milk
2 cups flour
1 tablespoon salt
½ cup sugar
1 tablespoon plus 1½ teaspoons baking powder
Maple syrup as needed
In a medium bowl, whisk together the eggs, egg whites, and vanilla. Add the butter and milk. In a separate bowl, mix together the dry ingredients. Add the wet ingredients to the flour mixture until a batter forms. Cook in waffle maker according to manufacturer's instructions. Repeat as many times as desired. Serve the chicken over a waffle and top with warm syrup.
Subscribe to Washingtonian
Follow Washingtonian on Twitter
Follow the Best Bites Bloggers on Twitter at twitter.com/bestbitesblog
More>> Best Bites Blog | Food & Dining | Restaurant Finder