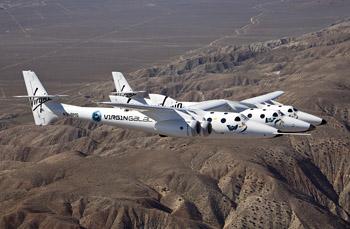 The water at the Outer Banks or Myrtle Beach may not be warm enough to jump in quite yet, but those looking for an early summer vacation will be pleased to hear that Marriott Hotels & Resorts is offering rates from $59 per night at more than 30 hotels in North and South Carolina. Travelers must book by April 15, and the rates are valid for travel through June 27.
Space tourism inched ever closer this week, as Richard Branson's Virgin Galactic fleet successfully completed its first "captive carry" flight between mothership and spaceship. The Galactic plans to provide suborbital flights to the public starting in 2012 by overlapping the Earth's atmosphere at 70,000 feet—allowing for periods of weightlessness. Tickets cost $200,000, and deposits start at $20,000. Mortgage your home and book today.
It's the last day to take advantage of Frontier Airlines' national sale on 900 routes across the country. One-way fares from Washington include Colorado Springs ($149), Denver ($149), and Las Vegas ($159). The deal is valid for travel through June 9 on Tuesday, Wednesday, and Saturday.
Families taking long road trips with children along I-95 might want to point their minivan toward Wilmington, Delaware. Opening April 24, the Delaware Children's Museum will provide kids ages one to 12 with 37,000 square feet to get their wiggles out. Focusing on science, math, and technology, the museum features exhibits about the human body, the environment, money, and . . . get ready. . . blocks!
Looking to get away this weekend? Travelzoo reports that United Airlines is slashing fares on flights from Dulles departing today and Saturday and returning Monday or Tuesday. One-way tickets start at $39.