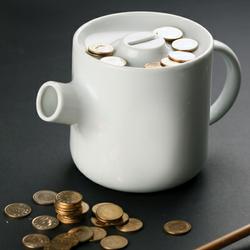 Teapot Coin Bank
The kitchen is often the first place we head after a long day of work—why not stick your spare change in something that will blend right in? When you're ready to cash out, simply pour the money out the way you would a warm stream of jasmine tea.
$32 at mollaspace.com
Coin Storage Holder
Always fumbling through spare change trying to find your keychain? Toss the entire contents of your pocket onto the wide-slot tray of Ideaco's Coin Storage Holder and the problem conveniently sorts itself out. So simple, so smart—we're kicking ourselves for not coming up with it first.
$34.99 at target.com
Save Key Bank
The computer nerd inside us is dying to stick this beside our work laptop. Good thing the base of the plastic shell easily pops off—we'd hate to break our new accessory just for a trip to the Coke machine.
$4.99 at uncommongoods.com
Jonathan Adler Elephant Bank
Not quite sure what it is about this adorable little guy that's got us so transfixed, but visions of a bedroom drenched in sunlight and swathed in Moroccan textiles seem to pop up every time we look at it.
$78 at jonathanadler.com
Love Grenade Coin Bank
We're hoping the military undertones of this number will help us resist breaking this bank open until absolutely necessary—our fingers are worth more than the change we need for that late-afternoon sugar rush.
$32 at aplusrstore.com