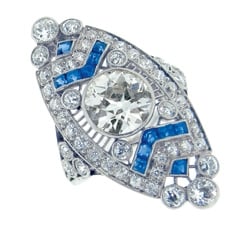 Favorite for custom: Adeler Jewelers, 772-E Walker Rd., Great Falls; 703-759-4076; adelerjewelers.com. Jorge Adeler and daughter Valentina create perfectly personalized works from a large stock of loose gems and pearls. Can't wait? Choose from their considerable inventory of unusual designs, including ancient coins in unique settings.
For classic contemporary: Amethyst, 4806 Bethesda Ave., Bethesda; 301-907-6871; shopamethyst.com. Amy Hugo showcases her own work in this cozy boutique, whose name hints at her colorful gems. The shop also brings in subtly exotic designs from all over, such as a Turkish "evil eye" bracelet ($935).
Broadest selection: Chas Schwartz & Son, Mazza Gallerie, 5300 Wisconsin Ave., NW, 202-363-5432; 1400 F St., NW, 202-737-4757; chasschwartzjewelers.com. This 122-year-old institution offers high quality and classics—from 18th-century antiques to affordable Pandora pendants. Nothing you see just right? The store's vaults hold old treasures, and its goldsmiths create new ones.
For originality: Facets Fine Jewelry, 4530 Lee Hwy., Arlington; 703-527-4247, facetsfinejewelry.com. A Japanese pottery-shard bracelet, green tanzanite, and Druzy quartz are just some of the uncommon finds here. Former Secretary of State Madeleine Albright owns two pins by Alicia Arnold, who joined her parents' trade and now runs the shop.
For modern: I. Gorman, 1133 20th St., NW; 202-775-8544; igorman.com. Stylish works—such as Todd Reed's raw diamonds as well as creations in colored aluminum—set I. Gorman apart, but their wearability nods to conventional tastes. Bridal offerings—served up with Champagne—span a range of styles, as does the men's collection.
For artisan: Jewelers' Werk, 3319 Cady's Alley, NW; 202-337-3319; jewelerswerk.com. The selection appears small—but 42 drawers are full of avant-garde works. A brooch made with watch hands? A goat-hair ring? Tamer choices include minimalist pearl or silver pieces.
For Old World style: Mystique Fine Jewelry Designs, 211 The Strand, Alexandria; 703-836-1401; mystiquejewelers.com. Even the original designs have heirloom quality, such as Beverley K's fleur-de-lis diamond band. In-house designers customize new and old pieces.
For original engagement rings: Pampillonia Jewelry, 1213 Connecticut Ave., NW, 202-628-6305; Mazza Gallerie, 5300 Wisconsin Ave., NW, 202-363-6305; pampillonia.com. This family of master designers, in its fifth generation of creating fine jewelry, carries beautiful antiques as well as fresh new works by Andréa Candela and others. Whether pondering that six-carat emerald bracelet or having a ring resized, customers enjoy gracious service.
For fashion: Tabandeh, Mazza Gallerie, 5300 Wisconsin Ave., NW; 202-244-0777; tabandehjewelry.com. The go-to shop for big, bold baubles. Owner Tabandeh Sizdahkhani carries more than 200 designers, including her rising-star daughter, Samira, and Iradj Moini. Flying off the shelves are Gaz charm bracelets ($75 to $135) popular on St. Tropez beaches because they're swim- and showerproof.
For antiques: Tiny Jewel Box, 1147 Connecticut Ave., NW; 202-393-2747; tinyjewelbox.com. Travel guidebooks list this landmark—with good reason. The not-so-tiny three-story shop boasts a well-edited selection of estate jewelry, world-class watches, and distinctive new collections by Cathy Waterman, David Yurman, and more.
For affordable and funky: Wake Up Little Suzie, 3409 Connecticut Ave., NW; 202-244-0700; wakeuplittlesuzie.com. This colorful tchotchke shop sells playful jewelry by more than 100 designers. Animal-inspired works by Figs & Ginger and Hotcakes join sophisticated gold-and-pearl jewelry by Silver Seasons. Pieces cost $20 to $250.