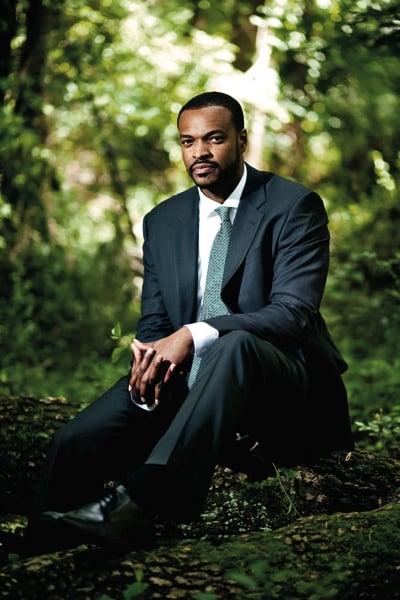 The young man at the corner table is plugged into his iPod, sipping a cup of coffee, oblivious to the jazz filling the room at Busboys and Poets on DC's 14th Street, Northwest. He might pass for a pro basketball player—six-foot-five, 235 pounds—except for one thing: Spread out on the table is the musical score of the Benjamin Britten opera playing on his iPod, the bass line highlighted in yellow, the beats numbered in pencil.
Kenneth Kellogg is back home after two years in the young-artist program at the San Francisco Opera. He's preparing to make his hometown debut in mid-August with the Wolf Trap Opera Company, singing the role of Quince in Britten's A Midsummer Night's Dream. The day after that finishes, he begins rehearsals for his debut with the Washington National Opera on September 11 as Count Ribbing in Verdi's Un Ballo in Maschera at the Kennedy Center.
At age 31, Kellogg has a promising career as an operatic bass—the result of talent, fortuitous mentoring, hundreds of hours of voice and language training, three university degrees, dozens of auditions, and thousands of low C's, all interspersed with doubts and struggle.
Unplugging from his iPod, Kellogg explains that learning a role always begins over coffee: "As a musician, there's no office you have to report to. So when I need to study the technical side of the music—the language, the diction, the rhythm—I always come to a busy coffee shop because I focus better when I have something to ignore."
Busboys and Poets is a favorite place of Kellogg's because it's not far from where he grew up—a two-story brick rowhouse in Brightwood Park, a working-class neighborhood just east of Georgia Avenue. The house was owned by his grandparents, and he lived there with his mother, who moved back home after separating from his father while Kellogg was a preschooler. His mother's two sisters eventually moved there as well; he refers to the trio as "my three moms."
Kellogg wasn't exposed to classical music as a child, nor did he sing in a church choir. But at his neighborhood school, Rudolph Elementary, music teacher Carolyn Glover discovered his gift for music and became the first of several mentors. She taught him to play the recorder and cast the skinny kid in plays—he played the giant in Jack and the Beanstalk—and in little musicals, including one celebrating the life of civil-rights icon Mary McLeod Bethune.
Glover offered him free piano lessons during recess, but they lasted only a month because the sounds from the basketball court outside were too alluring. As he grew older, his CDs mostly featured gangsta rap, rhythm and blues, soul, and a little jazz.
Though Kellogg played sports in school and on the playgrounds, he had so much fun singing that he heeded Glover's suggestion and went to summer music camp between sixth and seventh grades across town at the Duke Ellington School of the Arts in Georgetown, the public school for visual and performing arts created in 1974.
Two years later, Kellogg's mother, an employee of the National Mediation Board, pushed him to audition for a spot in Ellington's vocal-music program, partly to get him away from the drugs and violence in their neighborhood. He had prepared no songs to sing at the audition, but choral director Sam Bonds remembered him from summer camp and gave him a break. Bonds asked him to sing "Happy Birthday" and admitted him on the spot.
Ellington was different from DC's other public high schools. Classes ran from 8 to 5, with academic subjects in the morning and artistic work in the afternoon. Kellogg got his first real voice training, and puberty lowered his voice from tenor to baritone to bass. He performed with Ellington's concert choir at the Kennedy Center and elsewhere, but his appearances with its smaller, flashier show choir were limited. "I was a tall, awkward kid who couldn't dance," he says.
The busy schedule at Ellington insulated Kellogg from some of the dangers in his neighborhood. "Some of my friends got caught up in street life," he says. "A few of them ended up in prison on drug charges, and a couple were shot and killed."
The daily trip to and from Ellington showed him a different side of life. "Riding the bus, I watched people going to work, living their lives in a way that wasn't just standing on the corner."
Sometimes he'd sit on the Ellington lawn and contemplate life in the school's affluent neighborhood and his good fortune in being in a place where Stevie Wonder, Harry Connick Jr., and Phylicia Rashad dropped by to offer master classes and inspiration.
The biggest downside for Kellogg was that Ellington offered no sports. He and a few buddies sometimes skipped classes and played ball on a court at Georgetown University, but he did most of his playing in his neighborhood. "My friends didn't get why I spent so much time in school, and they definitely didn't get that I was a singer," he says. "But they respected my life and didn't make fun of it." He pauses and laughs: "Except maybe for some of the older kids."
Kellogg graduated near the top of his class in 1997 with the intention of leaving music and majoring in broadcast journalism at Ohio University. But Sam Bonds thought that would be a waste of a promising voice. He talked with Kellogg's mother and with Peggy Cooper Cafritz, one of the cofounders of Ellington, who made a surprise announcement at commencement: Kellogg would receive a scholarship—if he majored in music. Cafritz called the impromptu award the "Mamma-I-Want-to-Sing Scholarship."
Kellogg arrived at Ohio University with zero opera experience. He'd never been to the Kennedy Center or Wolf Trap. There was no Pavarotti or Domingo in his CD collection, nor any of the great African-American singers such as Paul Robeson, Simon Estes, or George Shirley. But Kellogg took an opera course in his first year and was cast in a small role in Gilbert and Sullivan's The Gondoliers.
His music career was almost derailed in his sophomore year by a music-theory class harder than anything he'd encountered. Music was no longer fun, so he thought he'd switch majors and try out for the basketball team.
He broached the idea with his voice teacher, whose husband was dean of the music school. The next day, the music-theory teacher said the dean had told him to do whatever it took to keep Kellogg in the opera program. A tutor was arranged, and Kellogg finished with a B.
He continued to get good roles in student operas, but there were moments of doubt about music as a career. In his junior year, professors refused to let him give a recital because they thought he was unprepared—a wake-up call that led to more diligent study. In his senior year, he didn't get a callback at an audition for the young-artist program at Wolf Trap—the same program he's in this summer—though the company tagged him as someone to look for in the future.
The failures hurt: "They tell you all the time in music school that you have to have a thick skin in auditions—'They are going to say no a thousand times and you have to be ready to hear it.' But especially when you are young, it's hard not to take it personally."
Looking toward graduate school, Kellogg focused on the University of Michigan, home to such noted opera singers as George Shirley and Daniel Washington. The school was impressed enough with his audition tape to fly him out for an interview and offer him admission. In the fall of 2001, his mother—proud that her youngest child had become the family's first college graduate—drove from DC to Ann Arbor while he followed with his belongings in a U-Haul. She'd always said her baby might become the next Luther Vandross, but things were headed in a different direction.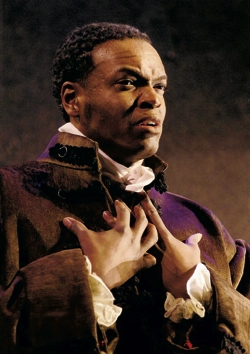 Kellogg wound up working with the baritone Daniel Washington: "The first day, he asked me, 'What do you want from me?' No one had ever asked that before, so I had to pause and think about it. I told him I wanted to be the best singer I could possibly be: 'I don't want you to coddle me. I know I make mistakes and I want you to tell me that.' Which he certainly did."
Washington showed him the ropes about singing and more. "He taught me what it meant to be an adult male," Kellogg says. "We had some very stern talks, but it was all out of him wanting me to grow. We talked about music, life, women, relationships. He taught me that as a singer you have to have a sense of confidence and that as a person you have to be responsible."
Kellogg spent five years at Michigan—getting master's and specialist's degrees—all the while entering competitions and auditioning for roles with opera companies. He'd go to New York, where he'd have ten auditions in a day, or drive to Chicago—once speeding back to Ann Arbor for a dress rehearsal, screeching to a halt in the parking lot, throwing on his costume, and arriving onstage so out of breath that he was unable to sing.
He learned to handle rejections, and he got roles on stages in Los Angeles, Atlanta, Philadelphia, San Francisco, and elsewhere. In 2008 and 2009, he trained with the San Francisco Opera as a prestigious Adler Fellow.
Kellogg's return to Washington begins with the Wolf Trap Opera Company, which has run a young-artist program every summer since Catherine Filene Shouse founded the performing-arts park in 1971. The program, directed by Kim Witman since 1997, chooses a handful of young singers to perform roles in three operas. It has given boosts to such noted singers as Washington's own Denyce Graves.
Sixteen singers were chosen this year out of 800 applicants. Witman invited 350 to live auditions based on their résumés; audition tapes are no longer trustworthy because tweaking with modern audio technology can cover up a singer's flaws. Last fall, she auditioned singers in eight cities, including New York, where she and her colleagues spent five days in a studio listening to 30 singers a day.
When Kellogg stepped into the studio, he was surprised that Witman remembered him from his previous tryout—"I was hoping she'd forgotten." Singers get only ten minutes. They must come prepared to sing any of five arias that show off voice and versatility. The first selection is picked by the singer, the second by the opera director from the other four.
Kellogg began with a piece from American composer Carlisle Floyd's Susannah and was then asked to do an aria in German from Mozart's The Magic Flute.
Witman was pleased by Kellogg's progress since his audition a few years earlier. Singers, especially in the lower ranges, need time to mature, she says—the body is the instrument, and a bass's voice may not be fully matured until his early thirties. "We were impressed by how much his voice had grown and been refined," Witman says, "but also by how he was able to put forth a character."
Kellogg had another audition across town that conflicted with Wolf Trap's callbacks later in the day, so Witman asked him to sing a third piece, a comic aria from Rossini's The Barber of Seville: "That would tell us if he could be quick, smart, fluent, and funny—and all that was answered in the affirmative."
Flipping through his score at Busboys and Poets, Kellogg says he is pleased to be singing the role of Quince, a carpenter, in A Midsummer Night's Dream, which will be performed August 13, 15, and 17 at the Barns at Wolf Trap. It's an ideal role for a young bass, he says. It's substantial but doesn't demand the gravitas of a father, a king, or a god.
In some ways, Kellogg is already a star in his old neighborhood. A few years ago, several of his friends gave up watching the Super Bowl to see him perform in a competition sponsored by the Annapolis Opera, and lately he's been getting calls from the neighborhood about tickets to Wolf Trap and the Kennedy Center.
Subscribe to Washingtonian
Follow Washingtonian on Twitter
More>> After Hours Blog | Arts & Events | Happy Hour Finder | Calendar of Events