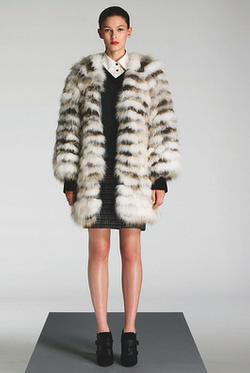 Designer Jason Wu officially landed in the fashion-conscious world of Washington—yes, it does exist—when Michelle Obama attended her husband's inauguration balls in Wu's dazzling one-shoulder, floor-length gown. This fall, the designer's work once again resonates with our area. His latest line—produced for the luxe cashmere brand TSE—is directly inspired by Robert Ryman's minimalist art, currently on display at the Phillips Collection.
"What's really interesting about Wu and Ryman is that they're both about paring everything down to the basics—they focus on color and texture," says Rachel Cothran, author of the local style blog Project Beltway. "That will always appeal here because women in Washington want to be taken seriously for their ideas first."
At the museum's monthly Phillips After 5 event last night, around 700 attendees—clad in colorful sheath dresses, statement jewelry, and pastel polos—saw Wu's interpretation of Ryman's art come to life. Models Rita Morkunaite, Jacqueline Akoko, and Anna Chamberlin sashayed around the gallery in dresses and separates from Wu's TSE collection, often posing in front of the specific Ryman pieces that directly inspired their clothes.
With wine and Dolcezza gelato samples in hand, gallery-goers snapped pictures and fired off questions about the designs.
"It looks like I'm wearing the art," Akoko said, touching the rippling folds of her one-shoulder white dress. "The textures of the painting look like the front of this dress."
Morkunaite sported black arm warmers and a strapless dress of silk organza with an overlay of a cashmere-and-wool knit, all cinched with a black belt. Chamberlain was in a paneled ombre cashmere-wool shift with a paint-like white design on the left shoulder and a zipper exposed in back. Like Akoko, Morkunaite and Chamberlain were most interested in how Wu portrayed Ryman's textures, which the New York Times described earlier this summer as ranging from "rough and stippled" to "smooth."
Meaghan Trimyer, 28, said the models provided an engaging take on Ryman's art: "I feel gauche saying this, but it's more interesting on the models It's three-dimensional. There's more movement. But you can definitely see the relationship between the art and the clothes through the textures."
Trimyer attended the event with her sister, Mallory, 25. "It's simple but striking—both the clothes and the art," said Mallory. "But it's more refined on the models and more coarse in the art."
The TSE dresses, on loan from Neiman Marcus at Mazza Gallerie, are priced between $1,500 and $2,500. And even for budget fashionistas, Wu's use of classic cashmere is worth emulating with other pieces, the evening's host said.
"Cashmere is the ultimate luxury canvas," Cothran—the evening's host— said. "In this [economic] climate, people are really thinking about quality. And cashmere is a luxury that's useful, durable, and washable. These silhouettes are basics, and they not only resonate in this economy, but they're also sensible for the modern woman who doesn't want to replace her wardrobe every season."
According to Cothran, the "modern" Washington woman is one who takes her work seriously but shouldn't have to forgo style for credibility.
"She wants to have clothes that work with her lifestyle, that make her feel attractive and that make her feel in control. So it makes sense that Michelle Obama supports a designer like Wu, because she epitomizes the modern woman. She proves you can care about style without sacrificing your ideas and contributions, which is something women in Washington are concerned with. You can do both."
>> To see more of Jason Wu's Ryman-inspired collection, click here.
Subscribe to Washingtonian
Follow Washingtonian on Twitter
More>> Shop Around Blog | Style | Find a Spa