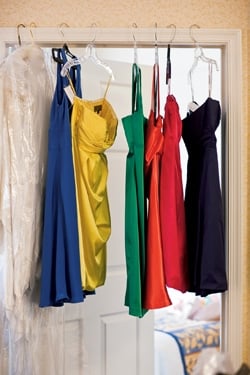 People give brides advice about nearly everything. But nobody warns them to beware of wedding guests dressing badly.
I may be one of the few brides in history who was upstaged at her own wedding. My cousin, Jeanie, dressed in black in deference to her recently failed marriage, and displayed so much cleavage that one of the waiters almost set himself on fire with the cherries jubilee. With her abundant assets on display, it's a wonder anyone noticed me at all!
The fact of the matter is that many wedding guests are clueless about what constitutes proper attire. Men have it easy almost all of the time; any dark suit will do. Women have more to consider: the time of day, the day of week, whether they will be seated next to an attractive (and hopefully single) lawyer or surgeon.
The invitation should give an important clue. If it's printed on heavy ivory paper and the bride's parents request the "honor" of your presence, it's a good guess the wedding will be at least semiformal. If sparkly confetti falls out of the invitation envelope, you'll probably be safe wearing something informal but festive.
But even as a guest at a casual wedding, respect the fact that this is a momentous occasion, and clothe yourself accordingly. It won't leave a lasting mark to dress in a slightly more conservative manner than you may be used to. The goal is to have fun and celebrate the joyous event, not give the groom's grandmother the vapors.
That said, here are a few "do's" and "don'ts" if invitations to upcoming celebrations are desired:
DO ask what the bride had in mind when she called for "creative black tie," "resort casual," or any other arcane dress code. Chances are her interpretation will be different from yours.
DO fee free to wear red, black or white as long as there is no chance you'll be mistaken for the bride, a funeral guest who has wandered into the wrong room, or a red-hot mamma looking for love in all the wrong places.
DON'T wear anything so staid that you could go on a job interview directly from the reception. A simple dress can be jazzed up with elegant jewelry, great shoes, or a beaded clutch. If you have the figure for it, wear a bustier or a satin camisole under your suit jacket. And men, feel free to lose the jacket entirely once the dancing starts.
DO look down before leaving home. Have you "forgotten" your bra? Are you wearing Birkenstocks or flip-flops? Has your date worn white athletic socks with his favorite crepe-soled shoes? As the flower girl would say, "You are so busted." Go back and change into something less comfortable. You are not taking a trip to Costco.
DON'T buy a long dress unless you really want one and you already have another occasion to wear it. And big baubles, loud bangles, and lime-sized beads are purely optional, unless you are a Real Housewife of New Jersey. A knee-length dress made from a natural fiber is appropriate for anything but a White House state dinner.
And, whatever you do, DON'T borrow a dress from my cousin Jeanie.
This article appears in the Summer/Fall 2010 edition of Washingtonian Bride & Groom. Click here to receive a complimentary issue.
Subscribe to Washingtonian
Follow Washingtonian on Twitter
More>> Bridal Party Blog | Wedding Guide | Wedding Vendor Search