Virginia makes some of the region's best wine—and you needn't drive far to taste it. Northeastern Loudoun County, just above Leesburg, is home to four pretty wineries that make award-winning vintages. They've been dubbed the Potomac Cluster, thanks to the way they hug the Potomac River.
As you take Route 15 north from Leesburg, a road that runs past farms and horse pastures, you might pause to soak in the significance of the road on which you travel, which runs from Gettysburg down to Jefferson's Monticello. The National Trust for Historic Preservation calls Route 15 the nation's most historic corridor because the route links land north and south of the Mason-Dixon Line and follows the same path used for centuries by Native Americans, colonists, and armies.
This area is loaded with history. Try not to miss Ball's Bluff (Ball's Bluff Rd., Leesburg; 703-737-7800; nvrpa.org; click on "NVRPA parks"), one of Loudoun County's largest Civil War battlefields. A one-mile walking trail is studded with interpretive signs and passes a historic military cemetery.
White's Ferry (Rt. 655/White's Ferry Rd., Leesburg; 301-349-5200), which shuttles between Virginia and Maryland as the last working ferry on the Potomac, has been in operation since 1786. Even if you don't take a ride—at $4 a car, it's hard to beat the value for a sunset crossing—you can take a look at the waterfront, which hasn't changed much since the ferry's beginning.
It's worth stopping for lunch at Fabbioli Cellars (15669 Limestone School Rd., Leesburg; 703-771-1197), a family-owned winery that puts a premium on ecology. You can bring a blanket or avail yourself of one of the picnic tables. The winery sells locally made cheeses, fresh breads, and cured meats that make for a great lunch amid the vines. Winetasting is $5 a person. Try the crisp Rosa Luna, made with Sangiovese grapes, and the popular pear-wine aperitif made from Asian pears harvested on-site.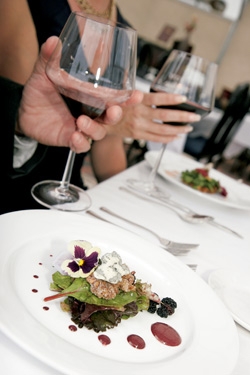 Venture inland a few miles to the sleepy town of Lucketts. Locals regularly trawl the aisles at the Old Lucketts Store (42350 Lucketts Rd., Leesburg; 703-779-0268), a trove of antiques, where 30 dealers sell everything from ornamental garden artifacts to painted furniture to crystal chandeliers. Because this shop is a bit off the beaten track, good deals abound.
Tarara Winery (13648 Tarara La., Leesburg; 703-771-7100), one of the state's most beautiful wineries, is perched along 475 acres on the Potomac and welcomes visitors to walk its six miles of hiking trails. Pop into the tasting room to sample its popular Viognier and excellent Meritage; a $10 tasting fee covers six pours.
End your day with dinner reservations at 6 Patowmack Farm (42461 Lovettsville Rd., Lovettsville; 540-822-9017), the epitome of the farm-to-table concept—much of the menu is harvested right there. From vegetables to meat, the emphasis is on organic. This charming restaurant was named one of The Washingtonian's 100 Very Best Restaurants; the five-course menu costs $85. Highlights include sorrel vichyssoise, beet salad dressed in Virginia Viognier vinaigrette, and Chesapeake Bay soft-shell crab with artichoke relish. Dine in the conservatory and you'll get a view of Point of Rocks Bridge on the Potomac River.
This article appeared in the August 2010 edition of The Washingtonian.