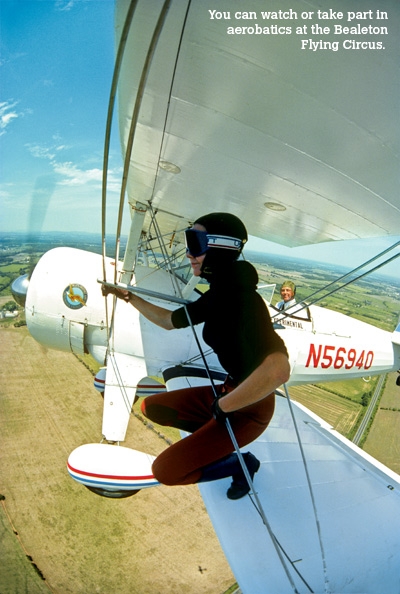 UP IN THE AIR: The Flying Circus Air Show

Bealton, Virginia
The old-timey Sunday air shows put on by the Flying Circus feature wing walkers, aerobatic biplanes, and precision flying. Want to give it a try? Before and after the performance, the flying aces offer scenic biplane ($70) and Piper Cub ($40) rides. Or really test your limits on a 15-minute aerobatic flight ($130) that will top any roller-coaster ride. Flying at up to 140 miles an hour and at an altitude of more than 3,000 feet, you'll feel the pressure of a couple of G's as the pilot takes you through loops and a series of rolls, including a barrel roll.
More information: 540-439-8661; flyingcircusairshow.com. Air show $10 for adults, $3 for children ages 3 through 12, free for kids under age 3. No reservations accepted for the show or flights.
Distance from DC: An hour and 15 minutes.
On the way: Grab a gourmet Sunday brunch at Claire's at the Depot in Warrenton, 65 S. Third St.; 540-351-1616.
SAILING AND SURFING: Gunpowder Falls State Park

Middle River, Maryland
At Gunpowder Falls State Park, the wide river acts as a funnel for light summer breezes rolling up the Chesapeake Bay—making the river with its sandy beach an ideal spot to learn windsurfing and Hobie Cat catamaran sailing. Ultimate Watersports, which has been offering instruction for 25 years, also offers kayak rentals as well as rentals and instruction on the newest water sport—standup paddleboarding. The name says it all: You stand on a wide surfboard and use a long oar to paddle atop the water.
More information: 410-335-5352; ultimatewatersports.com. Hobie Cat lesson $95; windsurfing $175; standup paddleboarding $60 for a private lesson, $40 for a group of three or more.
Distance from DC: An hour and 15 minutes.
BEAT THE HEAT: Antietam Creek

Boonsboro, Maryland
This spring-fed waterway, down in a hollow and under a canopy of trees, cools the air at water level to almost 20 degrees below the temperature of the surrounding countryside. That means it's a great place to go canoeing in summer. Antietam Creek Canoe offers four-, eight-, and 12-mile trips along the creek, which is mostly flat but has a few easy Class I/II rapids as well as places to pull off and take a swim. Running through historic Antietam Battlefield, the creek passes under the arched stone Keedysville and Burnside bridges.
More information: 240-447-0444; antietamcreek.com. A two-person canoe, including canoe rental, basic instruction, and return shuttle, is $35 a person.
Distance from DC: An hour and 15 minutes.
On the way home: Stop in Boonsboro for New York–style pizza at Vesta Pizzeria (2 S. Main St.; 301-432-6166).
LONG, DARK, AND FUN: Paw Paw Tunnel
C&O Canal, Maryland
The 3,118-foot-long Paw Paw Tunnel on the C&O Canal took almost 14 years to complete in 1850. If you love the cool Dalecarlia tunnel along the Capital Crescent bike trail in Washington, you'll love the Paw Paw. A narrow hiker/biker path within the tunnel is bounded by a wall on one side and a wooden fence on the other. Even though you can see light at the end, the tunnel seems to go on forever. You'll need some kind of illumination—a bike light, a flashlight taped to your handlebars, or a headlamp will work.
After you exit the tunnel, the trail follows a wooden boardwalk and then widens into a shaded dirt-and-crushed-stone path that follows the bends of the Potomac River. Five miles from the parking lot (which is a half mile before the tunnel entrance), an old railway bridge makes a convenient turnaround point for an easy ten-mile ride. Or continue on as long as you want—the path goes on for another 150 miles, all the way to Georgetown. Turning around, however, gives you one more chance to ride through the tunnel.
More information: 301-678-5463; nps.gov/choh/planyourvisit/hancockvisitorcenter.htm.
Distance from DC: Two hours and 15 minutes.
On the way home: Berkeley Springs, West Virginia, has lots of shops, antiques stores, cafes, and spas, including the Baths at Berkeley Springs State Park; 304-258-2711.
HIKING AND BIKING: Tuckahoe Park
Queen Anne, Maryland
Across the Bay Bridge, uncrowded Tuckahoe Park features more than 15 miles of trails for hiking and biking plus a calm 60-acre lake and a creek for canoeing and kayaking. With its diverse ecosystem of forest and marshland as well as proximity to the ocean, the park is a haven for shore birds, hawks, eagles, and songbirds, mixing together under the canopy of trees. To take it all in, you can rent a canoe or kayak ($15 for two hours) or a bike ($10 a day; 410-820-1668; dnr.maryland.gov; click on "parks").
The natural experience is enhanced at adjacent Adkins Arboretum (410-634-2847), a 400-acre preserve with more than 600 species of native shrubs, trees, wildflowers, grasses, and ferns.
Distance from DC: An hour and a half.
Still up for adventure? For a bird's-eye view of the Eastern Shore, the bay, and the Atlantic Ocean, check out nearby Highland Aerosports (410-634-2700), which offers tandem hang-gliding for $145 a flight.